Largest Coffee Chains in the US That Will Amaze You!
Coffee Makerly is user-supported. When you buy through links on our site, we may earn an affiliate commission.
Learn More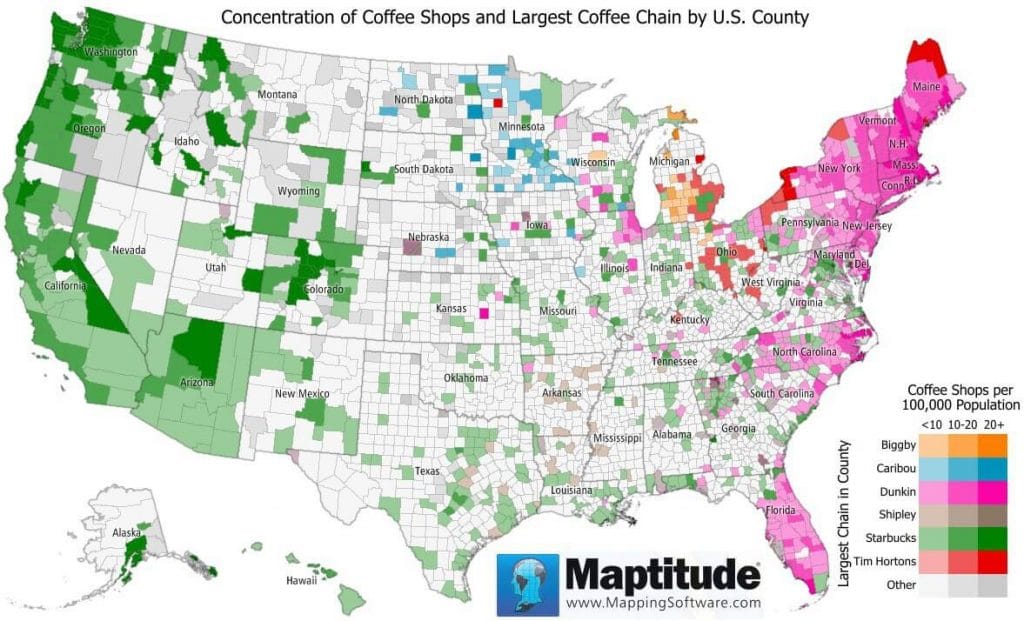 Morning is the most desirable time for coffee enthusiasts. It can make their time cheery and start them a great day every day.
Monday is more special to take coffee in a favorite location. In order to make a treat or special cafes party, you may try to find a fabulous coffee house. That's why we are discussing the largest coffee chains in the US.
According to the coffee shops map (created by Maptitude), Starbucks is predominant in 574 counties. From the Wikipedia Starbucks resource, there is 13327 coffee shop in North America.
Since 1971, Starbucks has more than 27,000 locations worldwide. They offer free coffee on birthday and many special reward program. After all, it's the number one coffee chains in the US.
Another popular brand "Dunkin Donuts" which is predominant in 399 counties. (Resources followed by Tim Hortons, Caribou, and The Coffee Bean and Tea Leaf.)
Dunkin Donuts has more than 11,000 locations worldwide. As like Starbucks, they also offer free coffee on every 200 points.
Tim Hortons is another coffee shop brand in the US. It's the biggest and popular coffee chain in Canada. Since 1980, it has now more than 900 stores. According to Wonderslist, It has more than 4300 coffee shop in all big countries. If you would like to drink Arabica Coffee, you should make a visit there.
Caribou coffee is expanding and acquiring reputation day by day. They have now more than 300 locations in 18 US states and over 1400 coffee shops around the world. They always ensure to provide a great environment in their shop. Coffee and green tea both are available in this shop. In every dollar you spent in this coffee chain, you will receive 2 points. When it reaches 120 points, you can get a free cup of coffee.
What is your favorite coffee chain in the US? We are eagerly to know your special coffee shops and unforgettable moments. Please let us know via coffeemakerly contact.