Largest Coffee Chains in the US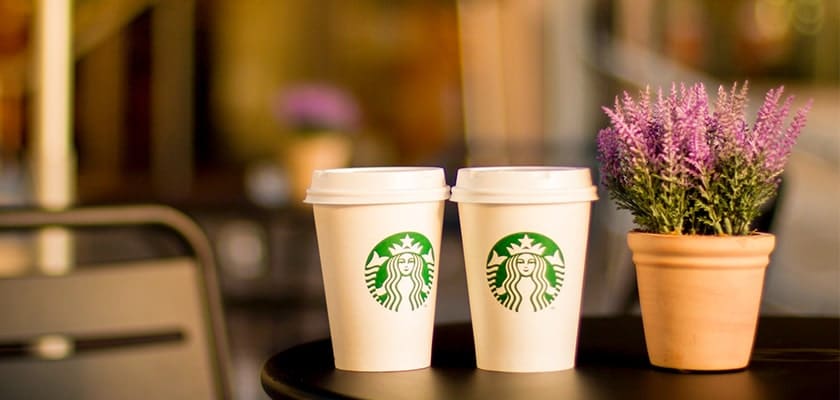 Morning is the optimal time for coffee drinkers. It enables them to wake up with a jovial mind and start out in a good mood every day. According to statistics, there are 74% of American drinks coffee every day.
The data that we gather helps us determine how much coffee is favored in the United States. Accordingly, enjoying a fresh and delicious cup of coffee in a favorite coffee cafe is an important part of them.
In our current article, we'll share our experience with researching the largest coffee chains in America.
[wpdatatable id=2]
Data Sources: Wikipedia (November 2022)
The Famous Coffee Shops in US
1. Starbucks
Starbucks is the largest coffee chain in the US. Since 1971, they have now about 15,444 stores in US and 34,317 (in 2022) coffee locations in 80 countries.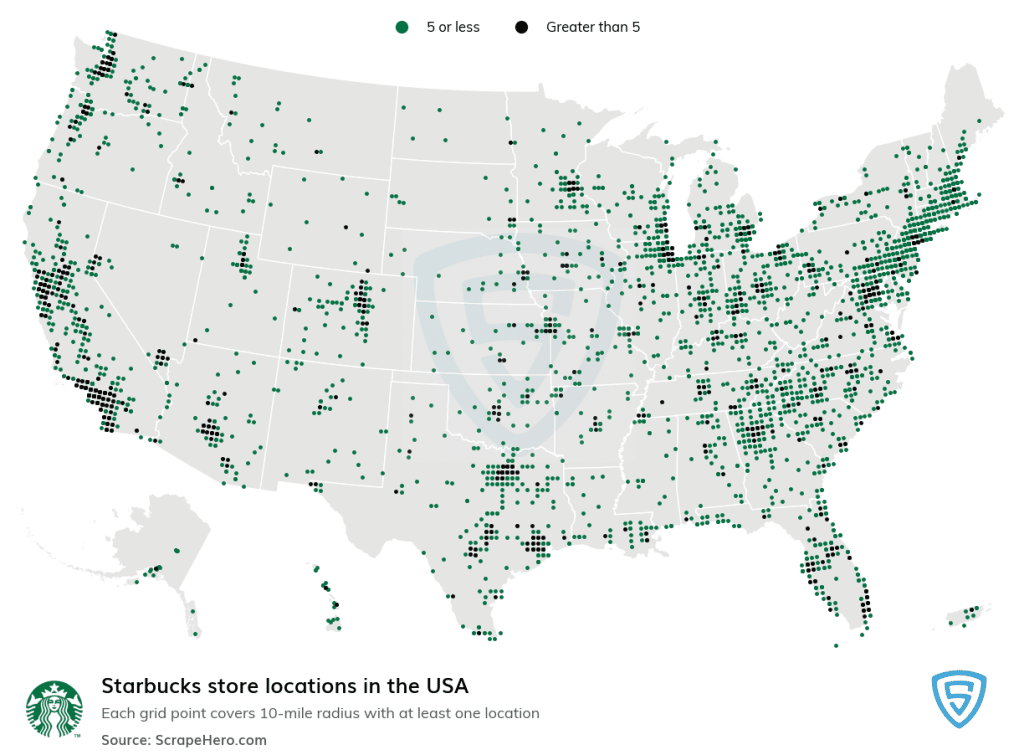 From the Scrapehero data search, California is the top Starbucks store located states in the US. There are 19% of total coffee chains of them. The company name was inspired by the classic tale "Moby Dick." Now, they are the world's most popular and successful coffee chain.
2. Dunkin'
Dunkin' Donuts is the second-largest coffee shop in the world. The company was founded in 1950 by Bill Rosenberg and Inspire Brand brought it in December 2020. In 2019, they started wholly rebranding as Dunkin'.
There are nearly 12,900 stores in 42 countries, and 9508 coffee chains are located in the USA. Like Starbucks, they offer different types of coffee, latte, macchiato, cappuccino, and espresso.
3. Krispy Kreme
Krispy Kreme, Inc is one of the oldest coffee chains in the US. It was founded in 1937 by Vernon Rudolph. They have more than 1000 stores in the world. Till 2021, the total number of stores in the US is 373. Coffee, Latte, Cappuccino, Mocha, Espresso, all these types of coffee you can find at Krispy coffee shop.
4. The Coffee Bean & Tea Leaf
The coffee bean & tea leaf is the most popular coffee shop in California, USA. They started their journey in 1963. Now they have more than 1000 self-owned coffee chains in 31 countries. There are around 186 coffee shops in 94 cities. They offer coffee, espresso, dark to light beans, K-cup pods, and brewing equipment.
5. Caribou Coffee
Caribou Coffee is expanding its chains and acquiring a reputation since 1992. It was founded by John Puckett and Kim Puckett. They have currently now more than 450 locations in 19 US states and over 600 coffee shops around the world.
They constantly ensure to provide a great environment in their shop. They offer various types of coffee, beans, and drinkware. The coffee beans owned by them ensure the utmost quality.