Best 4 Cup Coffee Makers – Buyers Guide & Reviews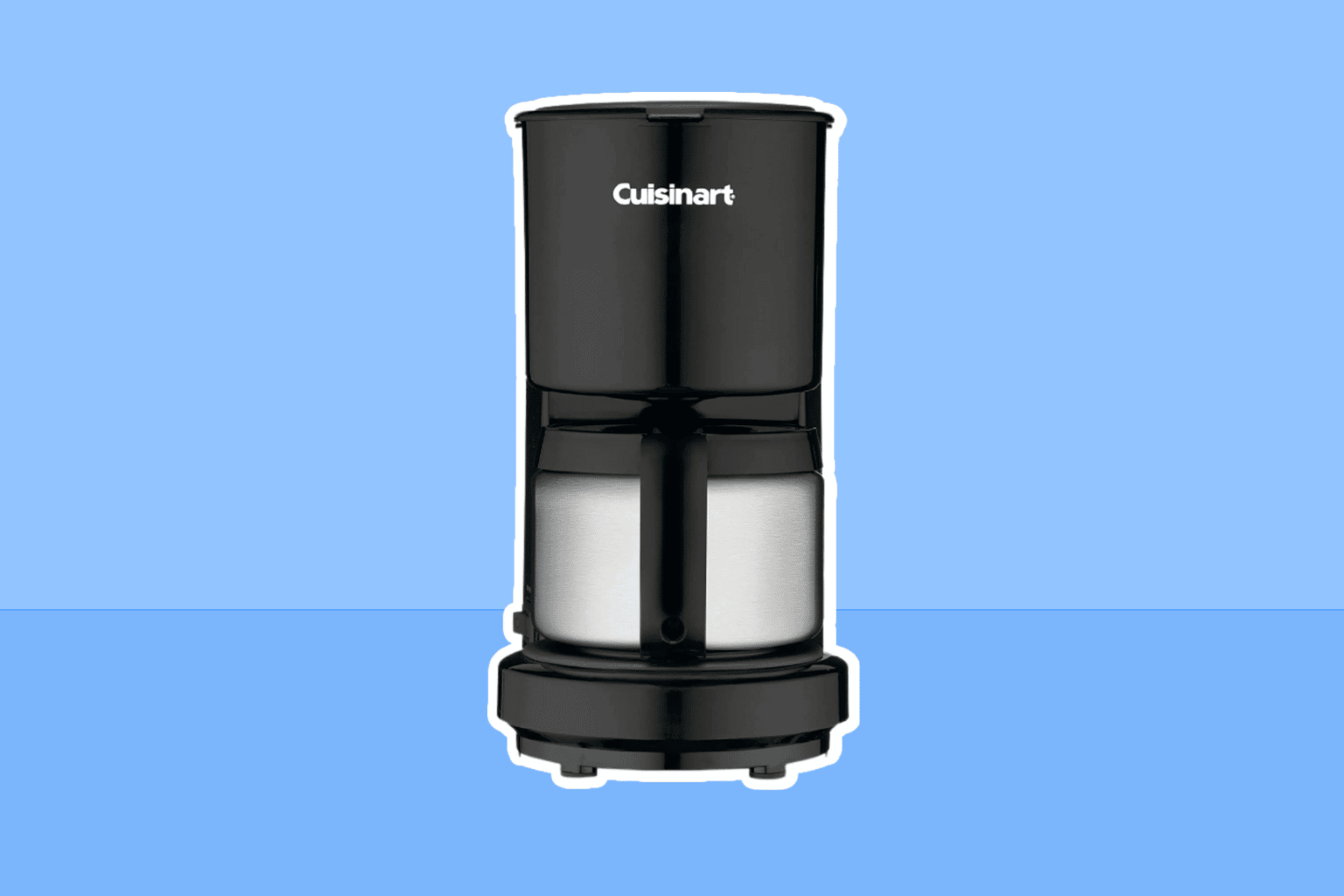 Is your most treasured hobby making coffee every morning? If you want to drink coffee with excellent taste and flavor all time, you have to master the precise procedure for making the perfect cup of coffee.
Coffee can be great even when made from fresh coffee beans, good water, and use other essential ingredients. But it is more important about which type of coffee machine you usually use to make a killer cup of java.
With many choices in the coffee makers market, it may be challenging to pick the ideal one for you. Take the time to review our expert opinions based on experience and research, regarding the four-cup coffee makers so that you can easily select the best one.
Why do you buy small coffee makers?
A small-sized coffee machine is appropriate for a little family who wants to enjoy fresh hot coffee, conserve space in the kitchen and consider the cost. When you want a few cups of coffee rather than brewing a whole pot, you require to purchase the best modern and programmable 4-cup coffee maker.
Quick Picks: Best 4-Cup Coffee Makers
This comparison table of 4-cup coffee makers will guide you in choosing the best model and make your purchase more straightforward.
[wpdatatable id=1]
Specifications
Brand: Cuisinart
Material Type: Stainless Steel
Dimensions: 10 x 8 x 5.25
Capacity: 4 Cups
Weight: 3.25 Pounds
Cuisinart coffee maker helps to make decent cups of coffee every morning. The stainless steel-made carafe increases the durability score of the brewer. To avoid buying paper filters, you should buy a two cone shaped permanent filter.
There are some excellent features included with this machine. It has auto-shutoff functions. From the brewing starting time, it will automatically shut down after 30 minutes. Moreover, it has a pause button to stop the brew anytime.
The key points of the machine are compact design, accessible features, and budget-friendly. Also, it fits the household kitchen. You can put it anywhere you want. The ideal size can save your kitchen space as well. It's specially constructed to North American Electrical Standards.
WHY WE LOVE IT
Fast Brewing
Compact size
Automatic turn off
Easy to clean and use
Stainless steel made a carafe
Affordable price
Coffee tastes excellent
TAKE NOTE
A reusable filter doesn't include
Small-sized carafe
Specifications
Brand: BLACK+DECKER
Material Type: Plastic
Dimensions: 9.75 x 7.25 x 10.75
Capacity: 5 Cubic Centimeters
Weight: 2.5 pounds
Black decker 5 cup coffee maker is unbeatable. Not only from the price point but also the design of the machine is perfect for the kitchen. The glass carafe is durable. While you need to fill it out, you can get the measurement idea.
Moreover, the removable filter is easy to clean. Generally, it's not easy to find a coffee maker with 4-5 cups that keeps coffee hot for a longer time. Because it typically brews a single time for small groups.
But this coffee maker keeps coffee hot for at least an hour. It's one of the outstanding benefits of the brewer. Including an on and off-lighted switch is easy to operate. The size of the brewer is kitchen space friendly. It doesn't need much space to place it.
WHY WE LOVE IT
Small and compact-sized brewer
Easy to use and Washing system
Removable coffee filter
Price of the coffee maker affordable
Make coffee quickly
TAKE NOTE
The programmable timer isn't available
No automatic shutdown feature
Specifications
Brand: KRUPS
Material Type: Plastic
Dimensions: 5.71 x 8.07 x 10.08
Capacity: 5 Cups
Weight: 2.78 pounds
KRUPS simply brews 5 cup coffee maker introduced with modern features. You can make 4-5 cups of coffee at a time. The machine automatically keeps coffee hot for around 30 minutes after brewing.
It has pause brewing features to pour coffee any time before reaching the brewing. As it is made of stainless steel, you don't worry about durability. KRUPS brand is always committed to creating products with perfection.
Specifications
Brand: Elite Gourmet
Material Type: Metal
Dimensions: 7.87 x 6.61 x 9.25
Capacity: 30 oz
Weight: 2.93 pounds
Elite Cuisine 4 cup coffee maker suits the kitchen perfectly. It's not a fancy programmable machine. It includes a water indicator that allows you to see the water level. It helps you to use the current amount of water to make coffee.
Moreover, the water tank is easy to fill. There is a start/off button, and a power indicator light notifying you to know whether the machine is running. The glass-made carafe is dishwasher safe, so you can easily clean it.
The most important thing is the filter of the brewer. It is a reusable supported filter. You don't spend much penny to buy paper filters. So it's also environmentally friendly. It brews coffee quickly and keeps coffee hot as well.
WHY WE LOVE IT
Affordable price
Glass carafe
Easy to clean
The carafe is dishwasher safe
Pause features
Reusable filter
Water level indicator
Keep coffee hot (1hour)
TAKE NOTE
No automatic shut-off features
Specifications
Brand: Mr. Coffee
Material Type: Plastic
Dimensions: 9 x 7.25 x 10.9
Capacity: 20 oz
Weight: 2.2 Pounds
Mr. Coffee switch coffee maker comes up with the most affordable price. It is capable of making 4 cups of coffee at a time. Especially the design of the brewer is unique. The pause and serve feature allows you to taste coffee at the time of brewing.
The manufacturer recommends using a paper filter. Expect the paper filter; you only need to clean the glass pot. Moreover, the filter basket is removable. So there is no need to apply any tricky effort in cleaning.
WHY WE LOVE IT
Auto pause feature available
Filter basket removable
Easy to clean
Glass made carafe
One-click functionality
How To Buy 4 Cup Coffee Makers?
It's not difficult to determine a top-rated coffee maker by cost level and standard features. If you're aware of some of the fundamental buying factors, you can ask yourself your requirements.
We highlight the important factors to consider when buying a 4-cup coffee machine. Read the guide and ensure you are making the best decision possible.
Built-in Quality
One thing to consider carefully before making a purchase is the built-in quality of a coffee brewer. You need to know about the materials that go into making coffee.
You must find a BPA-free alternative to purchasing a plastic-made coffee machine. Besides, stainless steel appliances are more durable when compared to appliances made with various other materials. Some coffee aficionados prefer glass coffee machines because they look lovely in the kitchen.
So we suggest checking out the material before choosing one.
Brewing time & Temperature
The unique experience of having a freshly brewed cup of coffee is our aspiration to begin the morning time. None haven't interest to start enjoying a new hot brew when it's pouring over. Exact brewing time is a standard attribute of a coffee taste. You may run into issues adjusting to brewing preference with a machine that is too slow.
To additionally consider the brewing time, it's essential to evaluate the temperature of the machine's brewing processes. If SCAA recommends it on Coffee Preparation Temperature (around 195 to 205-degree Fahrenheit), this is crucial for coffee quality.
Color and Size
Depending on your preference, there are several different colors and sizes to pick from. If you like a specific color and compact-sized machine for your kitchen, select the right one. A small or medium-sized brewer can help make the most out of your limited kitchen space.
Filter
There are two kinds of filters:
Paper filter
Permanent filter
If using the paper filter for regular coffee-making, you'll probably prefer investing in one that's reusable, considering how simple it is to make your coffee this way.
Carafe
The coffee maker's carafe is made from three different materials.
Stainless Steel Carafe
Plastic Carafe
Glass Carafe
Stainless steel carafes keep coffee hot for longer than glass and plastic carafes. They are also high quality and durable.
Plastic carafe retains the coffee hot longer than glass carafes. The advantages of plastic carafes include low prices. But it seems cheaper-looking.
Coffee lovers typically like glass carafes because of the delicacy with which they brew their coffee. On the other hand, there's no guarantee of how fresh your coffee will be with it. However, the flavor of the coffee stays consistent.
You should seriously consider the purchase of a stainless steel carafe-made coffee maker if you want to keep your coffee warm extra long. Yet, it's more important that you choose it as you wish. Thus, we advise you to ponder it carefully.
Easy to Use
Coffee makers are significant investments since they consist of many unique features. You need to understand how all these functions guarantee the machine reaches its top performance potential.
Have a look at the removable permanent filter. It's convenient, easy to clean, and eco-friendly, where the paper filter must pass through after brewing.
Additionally, particular coffee machines have removable filter baskets. And you can conveniently clean the machine's filter basket. For this reason, you should look for a machine that lets you quickly remove the parts and is easily cleaned up.
The cleaning process can be more complicated if you have a machine's parts you cannot remove. Read the user guide and seek advice from other users to avoid trouble.
Programmable Features
Programmable features let you customize a machine to your personal needs. The programmable timer is one of these. This setting permits you to program the brewing time and when your coffee will be made using a fresh brew in the morning.
Depending on your taste, programmable coffee makers allow for finer control during brewing. You can adjust a light or bold flavor manually before brewing.
Price
Depending on your budget, you might find the ideal coffee maker with all the cutting-edge features. Keep in mind your budget will vary based on the features provided.
You must set a budget and look up the different models within your budget. It will help you get the machines you want without spending money on an expensive brewer.
Warranty Policy
When you're thinking about getting greater convenience from coffee machines, check out the extended warranty coverage. Most coffee makers have a one-year warranty, while a few have two years. If you don't spoil the policy during the warranty period, you shouldn't have to pay after the machine finishes.
Frequently Asked Questions (FAQs)
How much coffee do I use for 4 cups?
The required amount of grounds for a mug is one tablespoon. That is the amount that should be used for a standard drip coffee pot.
How long does it take to brew 4 cups of coffee?
The amount of time it takes to brew coffee is largely dependent on the type of coffee maker you use, the temperature of the coffee maker, and most notably, the coffee's taste.
But brewing 4 cups of coffee takes 2 to 6 minutes, and water must contact the coffee and extract the ground coffee to create a bloom.
What is the ratio of coffee to water?
The proportion of coffee when brewing coffee plays a crucial role in its flavor. Especially the coffee to water ratio has the most significant impact on the taste and freshness of the cup. The ideal ratio for everyday taste is 1:17.
Final Words
As a kitchen appliance, the 4-cup coffee maker is a fine addition to any household. It's easy to use, makes an excellent cup of coffee, and is relatively affordable. We highly suggest this coffee maker to anyone looking to brew freshly brewed coffee each time.
Happy coffeeing!