Best Pour Over Coffee Makers – Comprehensive Reviews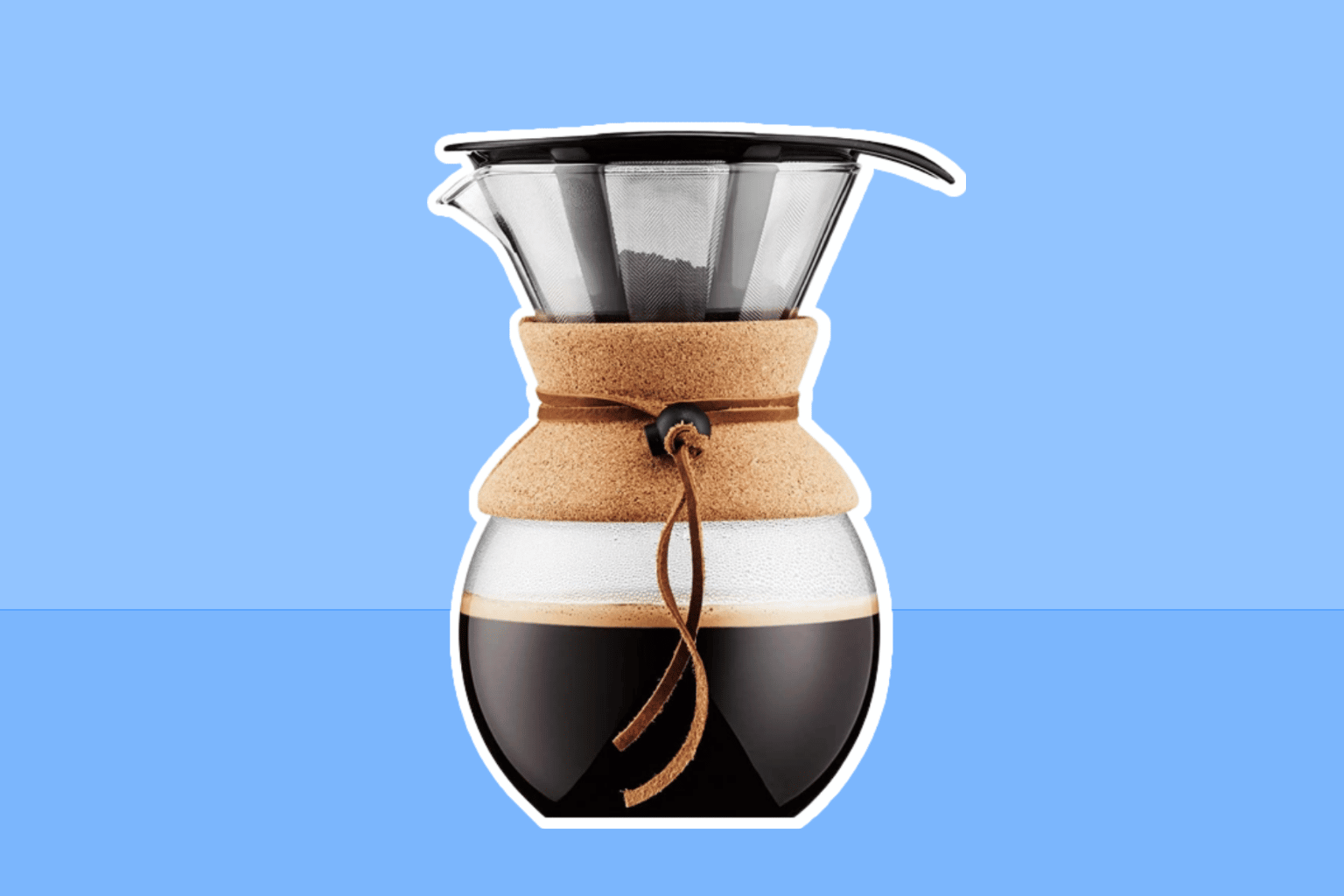 Coffe Makerly is user-supported. When you buy through links on our site, we may earn an affiliate commission.
Learn More
In the world of coffee aficionados, the pour-over coffee machine reigns supreme. It's a special coffee machine cherished by serious enthusiasts, those who savor every sip. It is perfect for the weekend warrior who has a few extra minutes to devote to making their cup of coffee.
After countless trials and endless tinkering, we have finally uncovered the top pour-over coffee makers. So come, join us on this aromatic adventure, and let us guide you to the very best that the market has to offer.
What is pour over coffee?
Pour over coffee is a type of brewing method that involves pouring hot water over coffee grounds that are placed in a filter. This method is often used by coffee buffs who appreciate the control it gives them over various factors. It often has a lighter body and brighter flavor than coffee brewed using other methods.
Why do you need a pour over coffee maker?
A pour-over coffee maker is a fast-growing method of making coffee. It has a lot of benefits compared to other brewing methods. They provide you complete control over the brewing process, thus enabling you to experiment with various grind sizes and brew times to produce the desired cup of coffee.
It uses cone permanent filters, so coffee produces an excellent aroma. As a result, more of the flavor and oils come from the beans being retained in the pot.
What features to look for in a pour-over coffee machine?
You will need to take into consideration a number of factors when you're choosing a pour-over coffee maker.
| | |
| --- | --- |
| Size | How much coffee do you need to brew? |
| Usability | Is the machine easy to use? Does it have programmable features? |
| Materials | Which materials are used to make the brewer? |
| Clean | Is it easy to clean and dishwasher safe? |
| Capacity | How much water the carafe can hold? |
| Design | Is it a space saver for your kitchen? |
| Price | What is the price of the machine? |
Best Pour Over Coffee Makers
Specifications
Dimensions: 9.84 x 6.46 x 1.65 inches
Material: Glass
Capacity: 6 Cups
Filter Type: Reusable
Chemex coffee maker is the most popular pour-over coffee brewer since 1941. Its user-friendly design gives you full control over brewing.
In the morning, it delivers delicious cups of coffee ready with the perfect cup size. This new coffee brewer is designed with a handle made of glass. That's why it's quite an easy way to hold and making pour over a cup of coffee.
You just need to follow some simple steps in the guidelines to make the coffee. In addition, get the right real flavor and taste of the coffee.
WHY WE LOVE IT
Simply classic designed
Includes a glass handle
Enjoy coffee with excellent flavor
Capacity 30 Ounce
Brewing temperature 200-degree Fahrenheit
Filters can be used
Easy to use and clean
Specifications
Dimensions: 5 x 5 x 8.2 inches
Material: Stainless Steel
Capacity: 800 Milliliters
Filter Type: Reusable
The coffee gator pour-over coffee maker is designed differently. Instead of having a one-time filter, it has a laser-cut stainless steel filter that can be reusable.
This filter ensures you the optimum flavor of coffee and it's completely BPA-free. It's almost perfect for home coffee brewing. With maintain quality, it makes your morning better than your expectation.
The coffee gator is made with a compact design. The capacity of water is 800ml which made up to 5 cups of coffee at a time. The overall shape is great and the handle is very comfortable to use.
Coffee-making steps are so simple and you can make coffee within a short time. It can maintain the right temperature which gives you hot and delicious coffee all the time.
WHY WE LOVE IT
User-friendly design
Affordable price to buy
The paperless reusable filter includes
BPA free carafe
Make hot and tasty coffee
Give the real flavor
TAKE NOTE
Some users claimed that the filter cheaply, but according to price range it's alright
Specifications
Dimensions: 5.2 x 4.47 x 3.19
Material: Stainless Steel
Capacity: 6.00 fluid_ounces
Filter Type: Reusable
Cafellissimo pour-over coffee maker is the most popular paperless brewer. It has a cool function that you don't have to worry to pour so hot water to make coffee. The compact design gives you the perfect taste of coffee.
By the way, the machine is relatively easy to use and clean. Overall performance, you just need to spend a little time getting ready for cups of coffee.
WHY WE LOVE IT
Filter less pour over coffee maker
Perfect for home users and travel
Compatible with any ground coffee
Fast coffee maker
Reusable dual stainless filter included
Super easy to use and clean
Specifications
Dimensions: 5.3 x 5.2 x 4.2
Material: Stainless Steel
Weight: 7.36 ounces
Filter Type: Reusable
Yitelle stainless steel pour over coffee is designed traditionally. Its stainless steel filter saves you time and money for replacing filters.
As it's reusable, you don't have to worry. The coffee brewer is portable, that's why you can use it not only at home but also for campaign tours or any outdoor parties.
If you want to have more control over brewing coffee with a fresh taste, you should pop one on your shortlist.
WHY WE LOVE IT
Decent taste coffee
Paperless coffee brewer
Reusable stainless steel filters
Rubber handle use as heat protectors
An easy cleaning system
Fast brewing
Affordable price
TAKE NOTE
Some users claim about removable rubber grip (Minor problem)
Specifications
Dimensions: 7.38 x 9 x 10.75
Material: Glass, Cork
Capacity: 2.1 Pounds
Filter Type: Permanent
Bodum pour-over coffee maker is smartly designed for fast brewing. Forgetting excellent experience on perfect barista cup coffee, then it's the right choice for you. Natural oils in ground coffee maintain in this coffee brewer.
Around 5 minutes, you get fresh ready coffee. The coffee maker's dishwasher is safe to use and it's BPA-free. Moreover, the stainless steel filter controls the flavor of the coffee and gives you a real taste.
WHY WE LOVE IT
Perfect pour coffee brewer
4 Cups Coffee Brewer
Stylish and compact design
Permanent stainless steel filter includes
The dishwasher is completely safe
It has a borosilicate glass carafe
The paperless filter that controls the coffee taste
Fast coffee maker
Specifications
Dimensions: 7 x 5.81 x 7.94
Material: Glass
Capacity: 5 Fluid Ounces
Filter Type: Paper
Melitta pour over coffee maker is designed according to the user's choice. Making coffee with this machine is so easy. You can make both cold and hot coffee.
It is compatible with at least 6 cups with a glass carafe. It has BPA free plastic filter cone that extracts the perfect coffee flavor.
Finally, this inexpensive and portable coffee maker helps you at home or on any outdoor tours in order to enjoy great coffee.
WHY WE LOVE IT
Able to make 6 cups coffee
Instant coffee brewer with good temperature
It's BPA free cone drip coffee maker
Made by popular Melitta Bentz brand in 1908
It includes 5 filters
Make exceptional tasty coffee
An ideal choice for brewing coffee for larger groups
Carafe capacity is 36 ounces
Simple coffee making system
Reasonable coffee brewer
TAKE NOTE
The size it little bigger than other coffee makers in the market
Glass carafe doesn't keep the coffee hot for much time
Specifications
Dimensions: 4.65 x 4.57 x 4.65
Material: Glass
Weight: 0.56 lbs
Filter Type: Paper
As a coffee lover, you must expect a great cup of coffee in the morning. An automatic brewer can do this but getting the natural taste manual coffee dripper can do the rest. Hario pour over coffee dripper is one of the best brewers in the market. You just need to follow the steps to make better coffee every time.
The best part of this coffee maker is about the price is affordable. Although the price is low, the design is user-friendly. The lightweight coffee maker is easy to clean and even you can see the level of ground while processing.
It's available in different colors. Moreover, the coffee maker comes with multiple stylish designs made with plastic, glass, metal, and ceramic differently each brewer. You don't have to worry about a slow brewing system. It can quickly give you the ready cup of coffee in front of you. For the weekend or any special tours, you can always carry this brewer. The small size saves you space in bags or the kitchen at home.
After a lot of time research, this Japanese-made coffee brewer takes the editor's choice among the best coffee makers list.
WHY WE LOVE IT
Lightweight design
Easy to clean
Perfect temperature for brewing
Everything controls manually
Japanese made
1-6 cups coffee can be made (Depending on size)
Start morning with the freshly brewed cup of coffee
Product warranty 1 year
TAKE NOTE
Buy filters every time (But available in online order)
Small size can only make 1-2 cups of coffee
Specifications
Dimensions: 4.5 x 4.8 x 2.5
Material: Stainless Steel
Capacity: 1.6 Pounds
Filter Type: Paper
Kalita stainless steel coffee dripper is rapidly growing popularity. It's beautifully designed with a special wave filter that gives you fresh tasty coffee. The durability of this coffee maker is absolutely good enough. It comes in 3 different styles.
Stainless steel
Ceramic
Glass
You just need to use the coffee maker carefully if it's not stainless steel brewer. The material of coffee maker is made with quality materials. The weight is very lightweight and far easy to use than any other coffee maker.
As the brewing process is manual, you have to test with the coffee grind, brewing time, and water temperature. Most of the users find this coffee brewer takes 3-4 minutes to finish the ready coffee.
For campaign trips or any weekend visits, you can use the brewer for any purpose you want. In order to enjoy great coffee, you should add it to your choice list.
WHY WE LOVE IT
Attractive design
Manual pour over
1-4 cups coffee brewer
Small in size that easy to carry
Support wave filter
Delivers great coffee quickly
Brewing temperature is perfect
Coffee brewer easy to use
It has good durability score
Dishwasher safe
Specifications
Dimensions: 6.5 x 5.4 x 6.9
Material: Glass
Capacity: 400 Milliliters
Filter Type: Stainless Steel
Apace living pour-over coffee brewer is an excellent choice for hot or cold coffee lovers. It doesn't expensive as other coffee makers.
The elegant design comes with non-plastic material. It has a glass carafe with a strong handle and a permanent filter.
The filter saves you money and time as it's not a paper filter. Fast brewing takes a few minutes for getting ready for cups of coffee.
As it has a stainless steel filter, it doesn't absorb the natural oil. And it delivers you the great taste of coffee.
WHY WE LOVE IT
Fantastic small design that saves kitchen spaces
Reusable stainless steel filter
Completely easy to use
Dishwasher safe
Easy to clean
Hot and delicious coffee brewer
G3X filter technology includes
One year warranty
Wrapping Up
Pour-over coffee is an entirely different process for making coffee at home or in cafes. To enjoy rich brewed coffee anyplace, you should have one from this topmost list.
While going on any trip or weekend tour, you can prepare every cup of coffee in any spot. The method is so simple with these brewers. Just following the proper steps can give you the best coffee.