Best Keurig Coffee Maker for Travel Mugs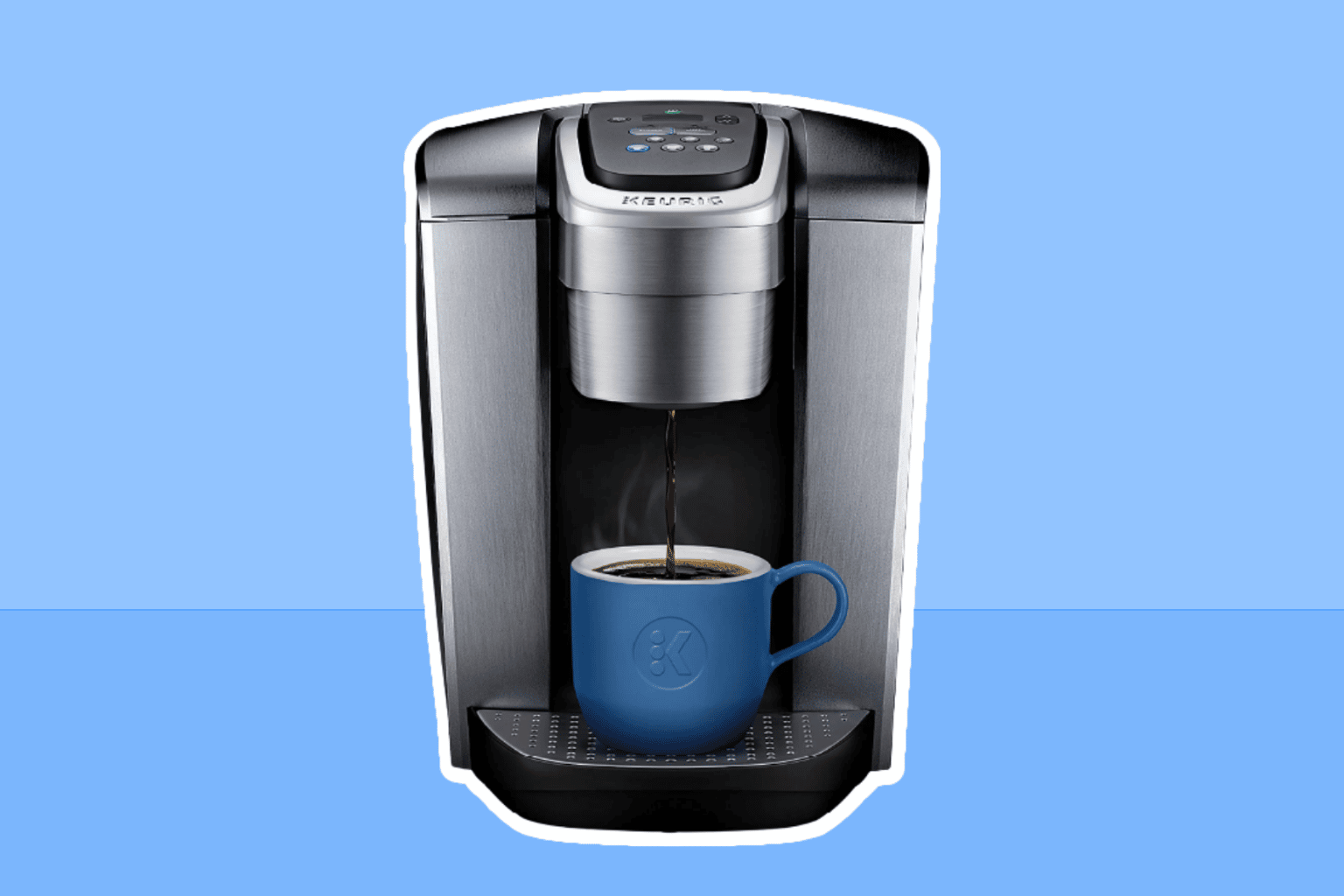 Coffe Makerly is user-supported. When you buy through links on our site, we may earn an affiliate commission.
Learn More
Keurig is one of the leading American brands in the coffee industry. They have a variety of popular and highly-rated coffee machines. When you'd like to take a trip, you may want a coffee maker that supports travel mugs.
Keurig understands the difficulties and comes up with innovative products. They offer different options and needs, particularly with unique coffee machines for travel purposes.
We are exploring here the top Keurig models to consider. We are certain, our recommendations can be worthwhile for your travel-friendly coffee machine investments.
Top 5 Best – Keurig Travel Mug Coffee Maker
Discover the best Keurig coffee machines.
Specifications
Dimensions: 9.2″D x 11.6″W x 12.5″H
Material: Plastic
Capacity: 5 Cups
Water Reservoir Size: 52oz
Filter Type: Reusable
Keurig K-select is designed for traveling. Brewing multi-size cups are the most convenient side of the machine. 6oz to 12oz cups is supported with this brewer. 
Controlling the brewing strength ensures you get the cup of coffee of your preference. Even the water and coffee filter delivers the perfect fresh taste of the coffee.
As a modern and programmable coffee machine, it shuts down automatically and saves the power system.
We like its water filling system. The large-sized water tank is easy to remove and fill with water. That's why it's utterly hassling-free in the morning time.
What's more? You don't have to worry about the cleaning system of the machine. The removable drip tray and water tank make it simple to clean.
WHY WE LOVE IT
Multiple cup sizes
Brewing strength control
Automatic shutdown
Removable Water reservoir
Compact in size
Modern designed
Large travel mug supports
Makes a fresh and delicious cup of coffee
User-friendly functions
Easy to use and cleaning
Specifications
Dimensions: 9.9″D x 13.1″W x 12.7″H
Material: Plastic
Capacity: 8 Cups
Water Reservoir Size: 75oz
Filter Type: Reusable
Keurig K-Elite is a unique coffee machine for cold or strong coffee with k-cups if we want to compare the model with the Keurig K-Select coffee maker, the key difference with the iced coffee brewing capability.
Fast brewing is enabled you to get ready cups of coffee in minutes. It is made of metal and plastic materials. That's why it is a lightweight machine and good in durability. Moreover, the design of the machine is compact and a kitchen space saver.
It has a large-sized water tank. It is capable of holding 75 ounces of water. As the water container is removable, it is easy to refill and rinse off.
This programmable machine is user-friendly and has auto-on/off functionality enabled. You can get a ready cup of coffee in the morning with the advanced timer function.
5 different cup sizes allow you to get coffee wherever you need it. There are two different buttons for iced coffee brewing.
After all, it's an exceptional coffee machine among Keurig models.
WHY WE LOVE IT
Elegantly designed brewer
Fast coffee brewing
The large and removable water reservoir
Drip tray supports large-sized travel mugs
Temperature can be controlled
Auto start included
Save power by automatic shutdown
Cleaning the machine reminder
Noise-free brewing technology
Brewing multiple cup sizes
Dedicated hot water button
Iced coffee making setting
Includes reusable filter
Specifications
Dimensions: 5″D x 13.5″W x 14.75″H
Material: Plastic
Capacity: 6 Fluid Ounces
Water Reservoir Size: Add water each time, removable
Filter Type: Reusable
A single serve coffee maker always allows you to brew at your personal preference. Keurig K-Mini Plus is a single-serve coffee machine that allows you to brew nine k-cup pods at a time. Where fast brewing is available, but the coffee taste doesn't burn after brewing.
This compact-sized coffee machine can perfectly fit in any kitchen and can save space as well. Even if you want to travel, you can have this coffee machine because it is travel mug friendly.
It can hold 7.0" tall-sized mugs. Moreover, you don't have to worry about the process of cleaning. The removable drip tray makes the machine easy to clean.
After finishing the brewing process, it is automatically turned off. According to Keurig's other models, it also supported K-cup and permanent filter.
WHY WE LOVE IT
Compact sized and travel friendly
Make coffee in minutes
Auto shut off feature
Tall travel mug supports
Separate cord storage
Compatible K-cup
Permanent coffee filter
Different K-cup sizes
Strong coffee brewing option
TAKE NOTE
Non-detachable water reservoir
Specifications
Dimensions: 14.17″D x 17.32″W x 14.41″H
Material: Plastic
Capacity: 3 Pounds
Water Reservoir Size: 60oz
Filter Type: Reusable
Keurig K- Cafe coffee maker is a multi-beverage brewing-capable machine. It can brew the most popular coffees like cappuccinos and lattes as well. According to customizability and innovations, the models designed are unique and have great features.
Attached to a milk frother can deliver both hot and cold, allowing you to catch iced lattes. If you prefer strong coffee, using the shot button can be done to get a cup of coffee.
This programmable coffee machine supports K-Cup. Large-sized water tank capacity to hold 60oz water. The water reservoir is removable and easy to refill, saving morning time.
As a programmable and modern coffee brewer, it has automatic shut-off features. When the brewing process ends, after 2 hours, the machine automatically shuts off itself to save energy.
Durability is a crucial factor in a coffee machine. Also, the taste of the coffee is very important to a coffee enthusiast. All these facts depend on how the descaling process is done.
Keurig K-Cafe has a maintenance reminder. Regular cleaning of the machine produces fresh-tasting coffee and ensures the long durability of the machine.
It supports travel mugs and is compatible with the K-Cup permanent coffee filter.
WHY WE LOVE IT
Sleek and beautifully designed
Integrated dishwasher safe milk froth
6-12 ounces cup sizes
Water reservoir
Any sized travel mug supported
Low water indicator light
Multiple brewing options
Hot or iced Latte and Cappucino brew
Compatible with K-Cup
A simple button to control
The programmable automatic shutoff feature
Maintenance alert when needs to descale
TAKE NOTE
Although automatic temperature control, it can deliver perfect and fresh taste coffee all the time.
Specifications
Dimensions: 4.5 x 11.3 x 12.1
Material: Plastic
Capacity: 6 to 12oz
Water reservoir: No
Filter Type: Reusable
The Keurig K-Mini is an excellent choice for those searching for a single-serve brewing capability. It brews fast and is very easy to use. The K-Cup pods are compatible with this brewer.
The coffee machine comes with a 6-12 oz. Brew sizes option. It has a drip tray that can be removed. You can place up to 7.0 inches tall mug on the tray.
As the drip tray is removable, the coffee maker is easier to clean. You can use a universal reusable coffee filter with it.
The design of this coffee machine is 5 inches wide and fits anywhere you want. It automatically shuts itself after the 90s from the last brewing, which we find highly convenient. After all, this Keurig model is definitely worth the investment.
WHY WE LOVE IT
6oz to 12oz Several cup sizes
Perfect size for travel
Removable drip tray
Turn off Automatically
Multiple colors available
Reusable coffee filter
Compatible with K-cup pods
Easy to clean
Hold Up to 7.0 inches travel mug
TAKE NOTE
No water reservoir
No cleaning alert
Frequently Asked Questions (FAQ)
---
Which Keurig model is best for iced coffee?
Keurig K-Elite is compatible with making iced coffee. You can brew a strong cup of coffee with ice by simply pressing the dedicated button.
Is Vinegar safe for Keurig?
You can use vinegar and hard water to clean the Keurig machine. Some Keurig models already have a self-branding de-scaling solution.
What does Keurig 2.0 compatibility mean?
Keurig 2.0 compatibility means delivering a perfect cup of coffee every brewing. The newest Keurig coffee maker has outstanding features like large brewing capacity, K-cups pods, etc.
How long does Keurig coffee maker last?
Keurig offers a one-year warranty for its products. Dependency on the product's use and care level will determine its lifespan. According to users' feedback, most of Keurig's models last three to five years.
Final Words
As you own a coffee personality, Keurig can be ideal for you. You can select between different models based on your favorite coffee type. The most remarkable part of choosing Keurig is that it has K-cup pods that feature multiple cup sizes, tastes, flavors, and strengths.
If you crave a great-tasting coffee experience and desire to purchase one of the best Keurig models, then our top recommendations are undoubtedly the best options.