Keurig K55 Review – Coffee Maker That You Should Check Out!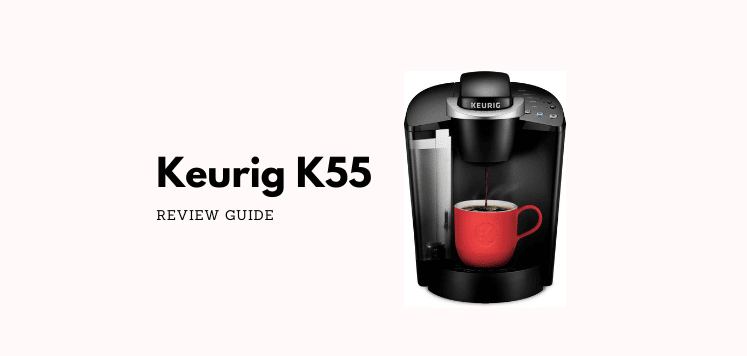 Coffe Makerly is user-supported. When you buy through links on our site, we may earn an affiliate commission.
Learn More
In order to enjoy great cups of coffee each time, the right brewer is a crucial matter. Keurig K55 coffee maker is designed snugly that produces fresh and hot cups of coffee in the morning.
It has excellent brewing temperature system. After all, the price of this coffee machine is affordable and it's elegance designed make it more suits for your kitchen spaces.
Specifications
Dimensions: 9.8″D x 13.3″W x 13″H
Material: Plastic
Capacity: 1419.53 Milliliters
Weight: 9 Pounds
Filter Type: Reusable
Key Features
Design
Among the classic series brewers of Keurig, K55 coffee maker comes up with the modern and lightweight design. Simple is always preferable to the coffee enthusiast.
The brewer has 5 buttons:
3 brew-size selector buttons
Power Button
Auto Shutdown
If you read the user manual, you can know more about its internal and external functionality. The indicators are very simple to understand.
One of the useful features is the water level and descaling indicator. Before brewing the water, it's quite important to know if the water tank has enough water or need to fulling. An indicator will notify you about that. Moreover, this programmable machine will let you know when it needs descaling.
Moreover, the heating light gives you notification about the warming water and brewing process. And the automatic off indicator allows you to save energy.
If you don't use the brewer for 2 hours, it takes auto shutdown. But make sure, you have to put on the button in order to keep active this function.
Durability
The coffee maker is made of plastic materials. Where there are only some small stainless steel parts find under the hood. Some users expect the machine with stainless steel and complaining about plastic'y materials.
However, the water reservoir is built with BPA free plastic. So it's a good side to this brewer. According to user experience, Keurig K55 model is quite popular and strong durability score.
Before using this brewer, we suggest you read the user manual, setup instruction, and videos in order to use this product rightly.
Programmable
This Keurig coffee maker is a programmable machine. It has 5 different indicators with automatic functionality which we mentioned above. The brewer has an automatic shutdown option which is preferable to every coffee lovers.
But the machine has no auto cleaning system. So you have to clean it manually with vinegar or other liquids. After all, the brewer can ready your cups of coffee under 60 minutes from brewing the water.
That's quite fast!
If you really prefer simple brewer with great functionality, then you should take the experience with this machine.
Coffee Taste
Keurig K55 model loved by coffee enthusiast, and the reason is about the delivery fantastic taste of coffee.
Although you can't control the temperature you can brew coffee with automatic temperature (reach around 193-197 Fahrenheit) which is ideal.
In the morning, it takes less than 5 minutes while brewer needs 4 minutes to warm up. So due to get fresh and hot cups of coffee, K55 model is indeed an excellent choice and worth for great taste of coffee.
Easy to Use
Making a cup of coffee without hassle is the key expectation from a coffee brewer. Keurig K55 does the exact thing for you. No more complex process!
Among the Keurig coffee makers, K55 has a convenience function to use. The large 48 oz. sized water tank saves your time and effort. You don't have to fill the water several times.
If you use K-Cups, you can pick any size 6/8/10 oz. As it's a single serve coffee maker, you only need to insert K-Cup and just wait a few minutes to finish. And after that, you get your desired cup of coffee.
Brewing Speed
The brewing speed makes us surprised. Within 30 seconds, it can be ready for 6 oz. Less than 5 minutes, this single serve coffee maker brews a hot and fresh cup of coffee.
From startup, it requires 4 minutes for starting up the machine and heating up the water.
Warranty and Replacement
The product has a 1-year warranty but you have to make sure about any fault shouldn't be caused by you. As the coffee brewer doesn't have auto descaling process, we suggest you clean it manually after every use.
Furthermore, you should read the user manual and watch the videos to know more about the coffee machine.
WHY WE LOVE IT
Support brewing with different K-cup pod sizes (6, 8 and 10 oz)
Removable water tank (48oz)
It allows making 6 cups of coffee
Electricity Saver as it has auto-off function (2 hours idle)q
Make a fresh and hot cup of coffee under 3 minutes
Lightweight designed
Built with quiet brew technology
One-touch functionality
TAKE NOTE
Large sized K-Mug is not compatible
A little bit expensive
It makes some noise
No temperature and brewing strength controlling functions
The Button Line
Keurig K-55 coffee maker is recommended to those who love small k-cups. In order to brew a large mug, you have to pick out from Keurig plus series machines.
The best advantage of the brewer is its quick brewing system and supply a great taste of coffee each time. Another thing we liked its elegance and sleek design. Overall, we highly recommend this brewer to check out.
Product Specifications
Manufacturer (Brand): Keurig
Model: K-Classic – K55
Weight: 12 Pounds
Dimensions: 9.8 x 13.3 x 13 in
The capacity of Cups: More than 6 Cups
Controlling Option: Programmable
Auto Shutoff: Yes (2 Hours Idle)
Temperature Control: No
Material: Plastic
Product type: Automatic
Watts: 1500
Warranty: 1 year