Cuisinart DCC 3200 Coffee Maker Review – Know Before Buy!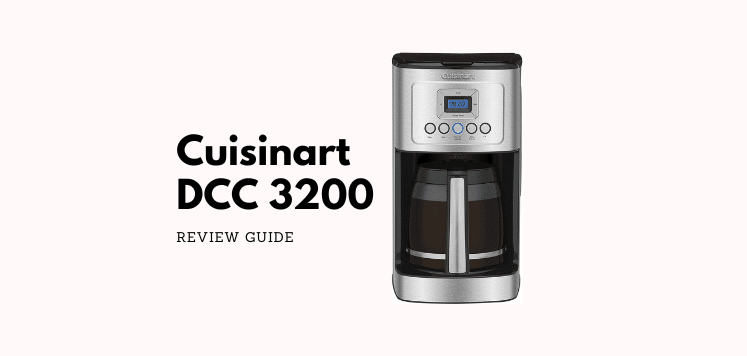 Coffe Makerly is user-supported. When you buy through links on our site, we may earn an affiliate commission.
Learn More
Every coffee junky loves to get plenty of features while buying a coffee maker. Their key intention is always to make a great cup of coffee.
The Cuisinart DCC 3200 model can fulfill your demand. Making a cups' coffee isn't just a process. It relates to a coffee brewer that can raise your sweet moment each morning.
Specifications
Dimensions: 7.75″D x 9″W x 14″H
Material: Stainless Steel
Capacity: 236.6 Milliliters
Weight: 9 Pounds
Filter Type: Gold-Tone Coffee Filter, Charcoal Water Filter
Key Features
Design
The coffee brewer design is elegant. It gives more priority to user-friendly. Among the modern coffee makers and good design trends, it achieves a good score.
The stainless steel handle and strong quality glass carafe improved the machine design. Every part of the machines fits perfectly.
As to following these aspects, we can ensure that it's one of the best-designed coffee makers for you which can save a lot of spaces of your kitchen as well.
Durability
The DCC 3200 machines body is built in with stainless steel and quality plastic materials. That's why the coffee brewer has scored on durability. In order to use the machine for long lasting, you must require to follow the right user guidelines.
Moreover, the coffee brewer has three years of experience, the company covers any kinds of issue with this machine.
Programmable
In this modern era, no one expects the manual process for coffee making. Super programmable coffee brewer can save time and effort. On account of this, you may prefer also the automatic machine. Cuisinart DCC 3200 is quite a programmable drip coffee machine that has a cluster of features.
Though the machine is programmable, it's easy to use. You just need to put the ground carafe, choose the brewing strength (Regular to Bold), choose the cups of coffee and then sits a moment for ending the process. Just within a few minutes, you get the hot cups of coffee.
Coffee Taste
As you control the different brew strength, you can enjoy the different taste of the coffee. While it has warmer temperature control capability, that always delivers hot fresh cups of coffee each time.
It generally reaches over 195 Fahrenheit. The maximum brewing temperature capabilities 205°F which can make the great taste of coffee without burnt the taste.
There are some reasons behind to make a great cup of coffee:
Cuisinart DCC-3200 has temperature function
Brewing time and strength control capability
Permanent filter and water filter
Simple but brew fast and quality cups of coffee
It has a super state of the art technology
After all, the brewer is perfect for those who willing to enjoy delicious tasting coffee.
Easy to Use
The machine is designed with modern technology. If you set the timer function and forget to wake up, preparing or anything else to do. No problem! It will do exactly what you need. Having automatic functionality, it always easy to use. You may want to prevent yourself from annoying cleaning; surprisingly it has an auto self-cleaning system.
The features of the machine are not complicated. You can simply use every single feature where we suggest to read the user manual of the machine. It'll give you perfect guidelines about understanding to use the brewer.
Brewing Speed
The coffee machine only takes 10 minutes to brew 8-10 cups of coffee. With setting the bold strength, it usually takes more 2 minutes. By pre-set timer, it may take a bit long time for morning brewing.
Warranty and Replacement
One of the good points of this coffee maker is having 3 years manufacturer's warranty. In that period of time, you don't have to worry about the machine.
Note: You have to make sure that you shouldn't make any product damaging caused by you. We should suggest you read the Cuisinart coffee maker warranty details.
WHY WE LOVE IT
14 cup glass carafe
Automatically programmable brewer
24 hours timer function
Easy to use and clean
Automatic start and shutdown option
Able to control brew strength
Deliver great taste of coffee
Permanent filters
Stainless steel handle for better stability
TAKE NOTE
While you go on a tour, by unplugging the machine, it can be reset some options.
It has an alert sound that gives you information on finish the brewing. (You can turn it off if annoying)
Verdict
Finally, Cuisinart DCC 3200 is undoubtedly a good machine based on price range and features. In the morning, you wake up and can get a cup of hot cup coffee ready without hassle with this brewer.
The programmable automatic functions make this machine as the up-to-date modern coffee maker. The design and versatility features give you a simple way to control this machine and a great cup of coffee for you, your family & friends.
Product Specifications
Manufacturer (Brand): Cuisinart
Model: 3200
Capacity: 14 Cups
Weight: 8.75 pounds
Length: 7.8 in
Width: 9 in
Height: 14 in
Material: Stainless Steel
Product type: Automatic
Controlling Option: Programmable
Timer Function: Yes
Watts: 1050
Auto Shutoff: Yes
Warranty: 3 years