Best Espresso Machines for Home – Read Before Buy!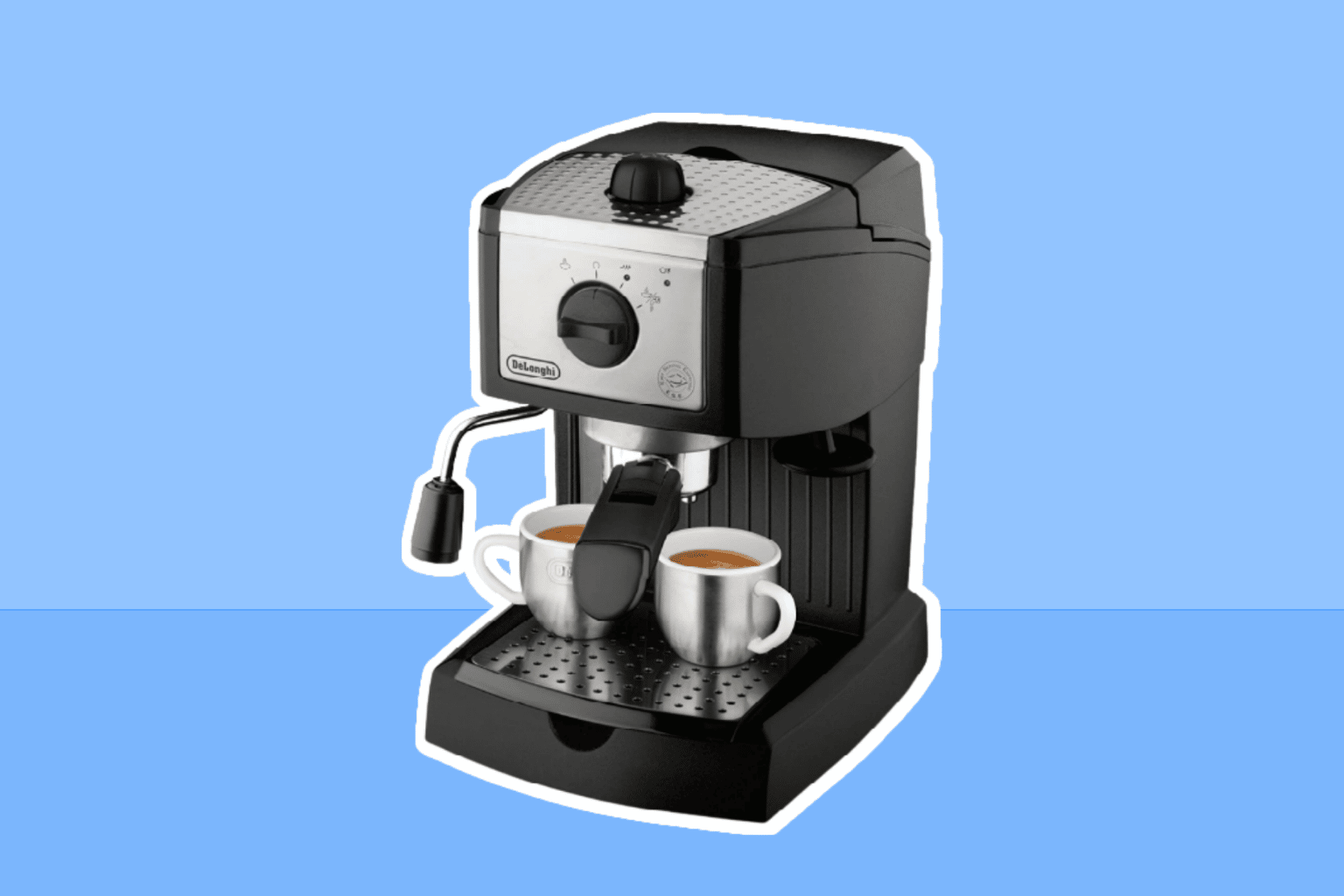 Coffe Makerly is user-supported. When you buy through links on our site, we may earn an affiliate commission.
Learn More
Are you an espresso aficionado? While there are plenty of ways to get your caffeine fix, nothing quite compares to making your own espresso.
Making a great cup of espresso is tough at home. But if you have the right espresso equipment, you may get the desired cup of taste.
There are so many different espresso makers on the market. That's why it may be challenging to navigate the market to find the appropriate one. To help you out, we've put together a list of the best home espresso makers, based on our own experiences and research.
So whether you're looking for an affordable option or want to splurge on a high-end machine, we've got you covered. Keep reading to find the best espresso maker for your needs.
What is an Espresso Machine?
An espresso machine is a coffee maker that forces hot water through coffee grounds at high pressure to produce a concentrated, flavorful shot of coffee. They come in many different shapes and sizes, but all have the same essential components: a water reservoir, a boiler, a pump, and one or more filters.
How to Buy the Best Espresso Machine?
What are the 5 Types of Espresso Machines?
Espresso machines can all be classified into four main categories: manual, semi-automatic, automatic, super-automatic, and capsule espresso machines.
Manual espresso machines are the most straightforward and hands-on type of machine. They require the user to grind the coffee beans, tamp the grounds, and manually control the water temperature and pressure. Although it is the most customized espresso-making method where several tests can produce the desired taste.
Semi-automatic machines take care of some of these steps for you, while still giving you some control over the process. For instance, a semi-automatic machine may allow you to place grounds and water into the chamber, but it will not grind the coffee. You can control the brewing sizes with semi-automatic espresso machines.
An automatic espresso machine takes care of grinding the beans, tamping down the grounds, and extracting the shot. It will even control the water temperature and pressure. The functions of making espresso are completely programmable, easy, and consistent.
Super-automatic espresso machines are like automatic machines. In addition, they can also grind coffee beans, and measure them. They are usually more expensive than semi-automatic machines.
Capsule machines are used pod-filled coffee or capsules to make cups of espresso. The capsules can be bought in a wide range of tastes. They are generally more expensive than the other kinds of espresso machines, but they do not require much attention as they are very simple to use.
Size of Espresso Machines
Espresso machines come in all shapes and sizes. The best-sized espresso machine for you will depend on your specific needs. If you're looking for a compact machine that can fit in small spaces, then a smaller espresso machine would be your best bet. These machines are typically less expensive and easier to maintain than their larger counterparts.
On the other hand, if you need an espresso machine that can handle high volumes of traffic, then a larger machine would be a better choice. These machines are generally more expensive, but they'll be able to keep up with the demand of a busy coffee shop.
Water Temperature
When it comes to making espresso, water temperature is key. Too hot and the coffee will be burnt, too cold and it will be weak. The best espresso machines use a built-in water heater that can maintain the ideal temperature for brewing, around 200 °F / 93 °C.
Some machines also have a preheating function that warms up the water before brewing, ensuring that your espresso is always at the perfect temperature. If you're looking for a machine that can make great espresso with ease, then one with an adjustable water temperature is a good choice.
Ease of Use and Cleaning
While you are digging to pick a top espresso maker, look at the features of how easy it can use, with clear instructions and minimal buttons. The machine should also be easy to refill and maintain.
User-friendly espresso machines are one that is easy to clean, with removable parts that can be washed in the dishwasher. The machine should also have a built-in descaling function to keep it running smoothly.
Best Budget Espresso Machine for Home
No products found.
Choosing the best espresso machines isn't really easy but it's not an impossible task. Every espresso enthusiasts love to get a machine at an affordable price that has the latest features.
Here we have a solution! Delonghi EC155 espresso and cappuccino maker can fulfill your needs. You can make espresso and cappuccinos both at home. The design of the machines is compact, lightweight, and stainless steel made. It can also control the temperature. Steam wand function is available also to steam milk easily and quickly.
WHY WE LOVE IT
High 15 bar pump pressure
Affordable price
Support pod or grounds
Cup warmer includes
Automatic functionality
Compact and convenient design
Includes a removable drip tray
Easy cleaning system
Great espresso machine for beginners
TAKE NOTE
Medium quality materials
In order to use frother, steam dial needs to use
Old design (Although it has some improvements)
The perfect espresso machine has ultimate features in order to easily operate it where the primary purpose to make exceptional cups of espresso or coffee every time.
The Nespresso Inissia espresso machine is one of those designed by the famous and popular brand De'Longhi.
One-touch automatic function offers 9 single cups of espresso within 30 seconds. Although the process of making espresso is quite fast, it gives delicious and fresh cups each brewing.
With small cups to large cups, the machine is perfectly adjustable. Not only hot coffee but also you can enjoy iced coffee anytime. Nespresso espresso machine has auto shut-off functionality which is a really smart option as present every modern machine has.
It saves the energy of electricity. Finally, the machine is perfect for the home user or any purpose you need.
WHY WE LOVE IT
The Expresso machine has auto shut off option
It's is small in size and compact design
Automatic Espresso maker
Good water temperature
Includes 24 0z. tank
Smart brewer that supports two different cup sizes
The machine includes a Nespresso original capsule
It's compactly designed
Easy to use
Machines price is very affordable
TAKE NOTE
No milk foaming (You have to buy a separate appliance)
The water tank is small
Hamilton Beach 40792 is one of the splendid espresso machines in the market. In order to enjoy delicious and fresh tasty coffee drinks, this appliance can be a great choice.
Every coffee lover wants great coffee every time which is the first priority. They want to get great features of the machine, while it needs to be popular and reasonable price among other brewers. This Hamilton coffee machine has all of the helpful aspects that you may want.
WHY WE LOVE IT
Easy and quick espresso maker within 30 seconds
Removable water tank
An indicator light
Remains the cup warmer until serve
It has a drip tray
Eligible to use espresso pod or ground espresso
Pretty simple to use and clean
Great user-friendly design
Pull down lever which locks the coffee filter into right place
TAKE NOTE
Steam output is a little weak
BELLA 13683 special brewer for enjoying not only great espresso but also lattes and cappuccinos. The machine is perfect in size and designed with a touch button.
Within seconds, you can get ready for the espresso. Furthermore, the brewer has 5 bars constantly high pressure that delivers bold and crema flavor.
It's capable to serve 4 cups of espresso at a time. After all, the brewer is easy to use and the removable cover and drip ray are far easy to clean.
WHY WE LOVE IT
Great espresso maker for home users
It specially pre built in frother for enjoying latte and cappuccino
Simply features that helps to make espresso
It has a removable drip tray
Easy cleaning system with secure filter basket
You can enjoy latte's and cappuccino's with the brewer
It has 5 bars high pressure
TAKE NOTE
On/off light is so dim and little button
Who doesn't like to get almost all espresso drink accessories in a single box? 7 pieces of all-in-one espresso machine come up to fulfill that need.
Actually, it's truly designed for home espresso, lattes, or cappuccino-making purposes. If you need a machine for commercial use, you should go for another brewer.
Why should you love this espresso machine?
It's quite easy to use. The functional system is user-friendly for operating. From the power button to brewing, you don't have to worry about anything.
Although some accessories are not built with high-quality materials, such as portafilters and baskets don't make with expectations but it's not bad at all according to the price tags. One of the best sides of the machine is supporting 15 bar pressure.
If you want to go with a mid-level price, the machine would be worth choosing.
WHY WE LOVE IT
Quick espresso maker
Removable water tank includes
Hassle-free cleaning system
15 bar professional pump system
It has stainless steel portafilter
For each extraction, you can choose a single or double shot
1.25L capacity water rank
You can control the brewing speed
Complete 7 espresso accessories include
Automatic shutdown features
TAKE NOTE
The machine produces weaker shots
Breville bes870xl espresso maker is user-friendly for having a compact design and fast brewing temperature options. The machine has developed more functionality than the previous version 860XL.
With this machine, you can simply control the brewing system and make espresso fast as your need. Its burr grinders can grind coffee beans within a few seconds, which is quite impressive. From beginner to experienced espresso lovers, anyone can control its functionality for great espresso cups.
WHY WE LOVE IT
The machine has 54mm stainless steel porta-filter
Removable water tank (Support 2L)
Professional 15 bar Italian pump pressure
54mm tamper
Includes a removable drip tray
Adjustable steam wand
Thermocoild heating technology
1600 watts and 110-120 volts
Automatic water temperature control
Easy to clean
It has filter size buttons
Auto indicator light for requiring cleaning
TAKE NOTE
Filters are a little expensive
The clean system needs to be done by hand
Wrapping Up
Buying an espresso machine is a great way to make sure you always have fresh, delicious espresso on hand. When you are looking to buy one for your home, it is important to consider what features you are looking for.
If you want a straightforward espresso machine, then a semi-automatic machine may be the best option for you. Alternatively, the difference in brewing size between a manual and semi-automatic drink machine allows you to be more involved in your own beverage brewing.