Hamilton Beach 48464 Review – Is Best Drip Coffee Maker?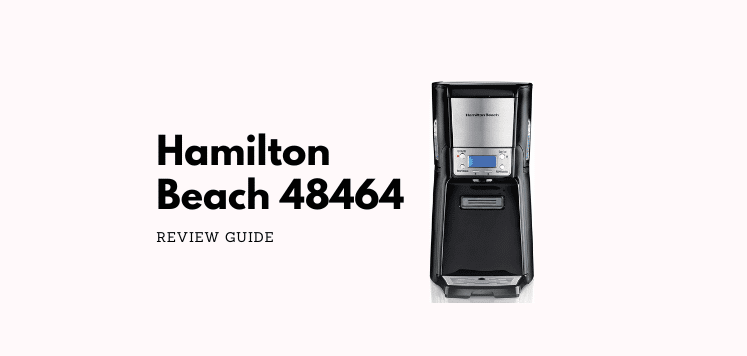 Coffe Makerly is user-supported. When you buy through links on our site, we may earn an affiliate commission.
Learn More
Do you prefer the automatic drip coffee maker? Hamilton beach 48464 coffee brewer offers a bunch of features and designed according to user needs.
From single serve to 12 cups of coffee can be made with this machine just within a few minutes. Regarding price range, we have discovered this machine as one of the most budget-friendly and programmable coffee brewer in the market.
Specifications
Dimensions: 8.19″D x 11.03″W x 15.15″H
Material: Stainless Steel
Capacity: 12 Cups
Weight: 0.9 Pounds
Filter Type: Reusable
Key Features
Design
Hamilton Beach coffee maker (48464) is carafe-less. Most of the coffee enthusiast love those features. It is capable to make 12 cups of coffee at a time.
Among many advantages, you can remove the water tank in order to fill it. In the morning time, you don't have to worry about it switch-off. Because the brewer is an automatic and programmable auto shutdown feature.
The materials of stainless steel and plastic housing improved machine design. Since it has a water level window, you can see how much how water is in the tank.
By using ground coffee, you can make a great cup of coffee at home or office. It has also an indicator light which gives you notification about ready coffee. You can also adjust brew strength for the different taste. Although you get bold, regular and small batch options, you can also make iced coffee.
Durability
According to the user experience, the coffee maker durability is good enough. The stainless steel made the machine strong and increased its strength.
The internal tank is removable and easy to fill with water. Moreover, the brew basket has also the same feature. Both can be clean easily. That's why it can lead to better experience in durability.
Programmable
As the brewer is programmable, it can do everything as following your needs. It has two ways based heating system. One is brewing the water and another to keep warm the reservoir tank. With just a single button, it does the rest of the process for getting ready the coffee cups.
The automatic shut off features make this machine more worthy to buy. One of the most convenient features is having a cleaning notification indicator. It gives the recommendation to clean the machine when it's needed.
Coffee Taste
The temperature of the coffee brewer is perfect, that's why you can make fresh testing cups of coffee. Up to 4 hours, it warms without losing the taste. Some coffee maker changes or burnt the taste of coffee.
But you don't have to worry about this case with this machine. It has an internal task instead of the carafe. And that's the secret for not losing the heated coffee up to 4 hours.
Easy to Use
Hamilton 48464 coffee maker is easy to operate. The brewing system of this machine is quite simple. Just add the water, coffee, and filter, the coffee will ready within a moment.
You can use a permanent filter in order to use ground coffee. The cleaning system of the machine is fast and easy indeed.
Brewing Speed
According to user experience, the machine takes a short amount of brewing time. It can make 12 cups of coffee below 15 minutes. If you compare it with other coffee machines, it's really faster brewing build-in system.
Warranty and Replacement
Moreover, the coffee brewer has 1-year warranty. That's why you can get any kind of support from the Hamilton company.
WHY WE LOVE IT
12 Cups coffee making capacity
Includes water level window
Compact design that perfect for kitchen
Auto shutdown option available
1-year product warranty
What we didn't like
TAKE NOTE
No carafe (It's not a problem actually if you don't prefer to have a carafe)
A little bit noisy and tall in size
Hard to clean
Verdict
This coffee brewer fulfills your all needs and moreover, give excellent delicious cups of coffee each time. From single serve to 12 cups, you can get ready within a few minutes.
While you don't worry about preparing everything; technically this programmable brewer always does the rest of the work for you. So, it really doesn't disappoint you where the convenience of the coffee machine can make you surprise. So without any doubt, you can pop up it in your counter list.
Product Specifications
Manufacturer (Brand): Hamilton Beach
Model: 48464
Weight: 5.51 Pounds
Width: 8.2 in
Depth: 11 in
Height: 15.2 in
The capacity of Cups: 12 Cups
Material: Stainless Steel
Product type: Automatic
Controlling Option: Programmable
Time Function: Yes
Watts: 950
Volts: 120V
Auto Shutoff: Yes
Warranty: 1 year