Bonavita BV1900TS Review – Read Before Buy!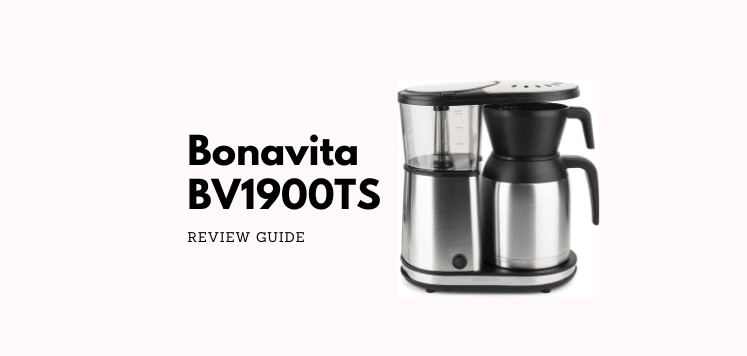 Coffe Makerly is user-supported. When you buy through links on our site, we may earn an affiliate commission.
Learn More
It's time to forget about your the old machine because SCA certified Bonavita BV1900TS comes up with a modern compact design. From brewing system to end of the coffee making process, it has a bunch of features. Following up the price ranges, this coffee maker is undoubtedly the best one!
Specifications
Dimensions: 6.8″D x 12.4″W x 12.2″H
Material: Stainless Steel
Capacity: 8 Cubic Inches
Weight: 6.13 Pounds
Filter Type: Reusable
Key Features
Performance
Bonavita BV1900TS is especially perfect for brewing fast coffee with rich flavor. Just 2 minutes, the temperature reaches 200-degree Fahrenheit which really impressive to a coffee enthusiast.
You can make around 8 cups (40 ounces) of coffee under 6 minutes. The fast brewing feature of this machine is ideal with other top-rated coffee brewers.
There are some good reasons for this brewer. It has a single brewing button. While you start the button, it just takes around two minutes to brew the water and automatically pass the water through the filter basket to the carafe.
So you don't have to worry or do anything more for making perfect cups of coffee. So finally we determine the machine's optimum performance by its fast brewing speed, good temperature and moreover, it's hassle-free among other top rated drip coffee makers.
Design
Every machine has some unique feature that you don't find other brewers. Design, features depend on many aspects according to users intention.
If you really love the simple design but very effective for making great coffee with every brewing, then this BV1900TS model is a perfect choice for you. It has compact and lightweight designed that suits in every kitchen.
One touch brewing system is absolutely beneficial. The machine has an on-off button where the automatic shutdown features included. That's why you don't have to worry while doing the brewing and rush to keep off the brewer.
The material of stainless steel and BPA free plastic made the brewer incredible and gives a modern look.
We mostly liked stainless made thermal carafe. It keeps the water hot for hours. So you can get ready coffee for a few hours from brewing.
Taste
The machine delivers an excellent taste of coffee. Water temperature and heating system ensure rich flavor in every brewing. Furthermore, it has a shower head above the filter basket, which distribute the water accurately so that there is no waste of coffee grinder. Bonavita company developed this machine for 1500 watt heating system. It's a crucial feature for fast brewing process and fresh delicious coffee.
Durability
As the coffee maker is made with stainless steel materials, its durability score is more than expectation. Moreover, the machine has 2 years strong official warranty. So it's a good side of this brewer.
The product has good user experience and rating score based on reviews. Bonavita company gives support for buyers satisfaction. They give as much support as they can. So as having the good materials, the brewer has last longevity results.
Brewing Speed
The machine takes below 6 minutes to prepare 8 cups of coffee. Within 2 minutes, the water brews and reaches 200F. After all, this coffee machine is so faster in brewing which gives you ready cups of coffee every morning.
Noted that:- It takes 45 seconds extra time if the pre-infusion button is activated.
Cleaning System
The process of cleaning this machine is easy and simple. It has some removable parts. The carafe, filter basket, water tank need to clean regularly for better durability.
Moreover, it ensures the quality of coffee each time. The shower head, dishwasher and filter basket are safe. As the machined plastic is BPA free, so it's quite safe to use. As following the manufacturer advice, you have to descale the machine after 100 uses.
Price
The price of the machine is affordable as it's having better user experience, positive reviews, and great features. Although it doesn't have time function, brewing pause option and most importantly not programmable but it takes a few minutes to get ready delicious and tasty coffee.
While your primary priority is to get the coffee with right flavor, you really need to worry about the features that the machine doesn't have, we mentioned.
Warranty
You don't have to worry about the coffee machine problem unless it doesn't break any terms and condition. It has 2 years official warranty. Furthermore, they provide customer support with efficiently and effectively.
WHY WE LOVE IT
The machine's plastic is BPA free
One touch brewing system
SCA certified home coffee brewer
Includes auto-off functionality
It has a large shower head
Fast coffee brewing system built in with 1500 watts
Good temperature range
TAKE NOTE
Short power cord
No timer function
Verdict
From design to material components of the brewer is user-friendly. The size of the brewer saves kitchen spaces.
If you really don't want so much option and hassle-free coffee maker, then Bonavita BV1900TS machine for you. Without much efforts, you can get ready delicious coffee quickly.
Product Specifications
Manufacturer (Brand): Bonavita
Model: BV1900TS
Dimension: 12.4 x 6.8 x 12.2 inches
Weight: 6.13 Pounds (8.1 Pounds for Shipping)
Watts: 1500
Volts: 120V
The Capacity of Cups: 8 Cups
Auto start: No
Auto Shutdown: Yes
Brewing time: Less than 6 minutes
One touch brewing system: Yes
Temperature: 195°-205°F (91°-96°C)
Material: Stainless Steel Carafe
Warranty: 2 years