Best Thermal Coffee Carafes Reviews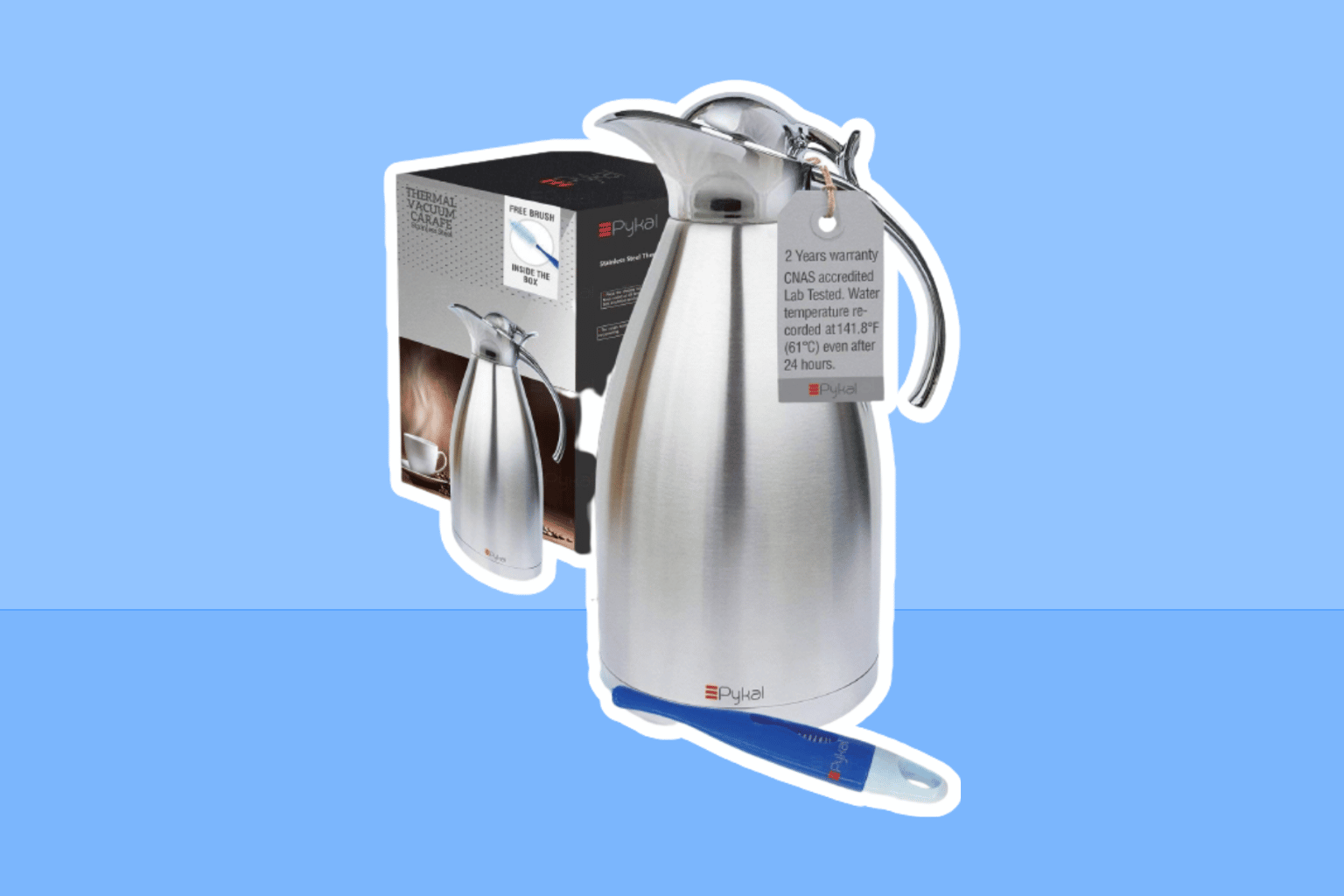 Coffe Makerly is user-supported. When you buy through links on our site, we may earn an affiliate commission.
Learn More
Coffee is a stunning part of the morning time. If you'd like to extend your enjoyment of your favorite coffee beverage without losing its hotness and freshness, you'll need a thermal carafe.
Whenever a fresh pot of coffee is ready, store it in an insulated carafe directly. A thermal carafe is one of the best options for keeping coffee hot for extended periods, so you won't need to worry about it getting cold.
Let's explore the coffee carafes available today and the various things that make the best ones! The price, design, and ease of use are carefully explained to help you pick the best.
What is a thermal carafe?
A thermal carafe, also known as a vacuum bottle or thermos, is a way to keep your coffee, tea, or any kind of beverage hot for hours. They are made double-walled and insulated with vacuum technology. It will likely remain at a stable level of your liquid temperature for a long while and transfer the heat very slowly.
Glass Vs. Thermal Carafe – Which is best?
There are two types of coffee carafes- glass and thermal. They are mainly designed for heat resistance, stability, and beverage taste. 
How do you choose which one is the best for your needs?
Glass carafes keep the same flavor and taste since you brew. They can increase the beauty of your kitchen and make it more elegant. According to price aspects, they are typically cheaper than thermal carafes. They are also easier to clean since you can just put them in the dishwasher.
What are the downsides of glass carafes?
The glass ones are not insulated and can break easily. They also tend to break down quicker if you use them often. They are double-walled and vacuum sealed. So they do not keep your coffee hot for as long as thermal carafes.
Thermal carafes, a popular type of thermal carafe, are double-walled stainless steel. Specifically, they can better hold the coffee temperature for a longer time. The vacuum between the wall can eliminate the warmth and maintain the beverage hot.
They are more expensive than glass carafes, but the carafes can keep your coffee hot for hours. A thermal carafe can be ideal when coffee-making machines do not have hot plates. However, cleaning them can be more challenging since you must wash them.
Best Thermal Coffee Carafe Reviews
Specifications
Brand: Cresimo
Material: Stainless Steel
Dimensions: 10.8 x 6 x 6 inches
Capacity: 68 Fluid Ounces
Weight: 1.8 Pounds
Cresimo, a coffee ware storage brand, designed this elegant stainless steel thermal coffee carafe. The exterior and interior both provide reliability for everyday use. Mainly the double-walled ensures quality, superior durability, and resistance to damage.
The vacuum technology of this carafe retains the temperature and keeps the beverage hot for hours. Even the carafe can be used for cold beverages as well.
The design of the carafe is entirely user-friendly. The filling opener is large so that you can quickly fill it. You can clean it efficiently whenever you want. One-handed pouring makes it easy when the outer side of the carafe is cool to the touch.
The capacity of the carafe is 68oz which is around 8.5 cups. It is the perfect retention for personal home users. After all, we mostly love this thermal carafe as it keeps coffee hot longer.
WHY WE LOVE IT
Designed with vacuum technology
2-liter beverage capacity
Keeps beverages hot for hours
Durable built-in quality
Attractive and light-weight
Easy to clean
One-handed pouring
Relatively affordable price
Sturdy handle
Filling the carafe is easy
1-year warranty
TAKE NOTE
Although it is not dishwasher safe, it is easy to clean with a bristle brush.
Specifications
Brand: Pykal
Material Type: Stainless Steel with Manual Lid
Dimensions: 10.8 x 6 x 6 inches
Material: Stainless Steel
Capacity: 68 Fluid Ounces
Weight: 1.8 Pounds
Pykal thermal carafe is tested by CNAS accredited lab and ensures its quality for hot or cold beverages. German engineering technology helps to keep coffee hot for hours. The vacuum insulation helps hold the temperature for hot and cold beverages for hours.  
As the carafe is plastic and BPA-free silicon, it preserves the taste of beverages. One-handed control makes it easy to pour the coffee. Cleaning is an essential part of keeping a thermal carafe long-lasting.  
The carafe includes a free cleaning brush that can help to keep it clean easily. The outside part of the carafe and handle is safe to touch because the handle is made of chrome.
WHY WE LOVE IT
The carafe can be used for hot or cold beverages
68oz coffee carafe size
CNAS accredited lab tested
Sleek beautifully designed
Double-wall stainless steel made
Used German insulation vacuum technology
Handle and outside part cool to touch
Free cleaning brush included
Easy to pour beverages
2year replacement warranty
TAKE NOTE
According to users' experience, the handle should be wider and longer. But we think it's not a problem to hold the carafe.
Specifications
Brand: Vondior
Material: Stainless Steel
Dimensions: 15.6 x 5.6 x 5.6 inches
Capacity: 3 Liters
Weight: 6.4 Pounds
Vobdior coffee carafe is an attractively designed stainless steel carafe. This premium carafe keeps beverage coffee hot for up to 20 hours. It also holds the temperature for cold beverages. Made of stainless steel, it doesn't diminish the flavor and taste.
It has a large capacity of up to 3 liters, so you can get coffee for family gatherings. By pressing a button, it pours out the coffee.
The insulated carafe provides a cleaning brush which helps to descale the carafe easily.
WHY WE LOVE IT
Sleek designed carafe
Large 3-liter dispenser capacity
Keeps coffee hot for up to 20 hours
Stainless Steel made carafe
Width up side opener
Includes a free cleaning brush
Pumps with a single button
30/90 days refund policy
Specifications
Brand: Cresimo
Material: Stainless Steel
Dimensions: 16.42 x 6.69 x 6.69
Capacity: 3 Liters
Weight: 3.4 pounds
If you are looking for a large-sized coffee dispenser, Cresimo thermal carafe can be the right pick; it is excellently designed with vacuum insulation. It is 3 liter (101 ounces), perfect for any family program. In particular, it holds temperature for 12 hours and keeps cold beverages for 24 hours.
This Double-walled dispenser conserves the beverage flavor for hours. About the design, the carafe is made of 18/8 stainless steel. The outside is cold to the touch when you keep the hot coffee. Furthermore, cold beverages can stay cool with condensation-free.
A friendly designed carafe ensures an easy-to-use and clean process. Considering this point, it is convenient to pour over, and the pump lever makes it simple to use without spilling out the beverages. Also, it is easy to fill. Overall, we have found this remarkable carafe with many features.
WHY WE LOVE IT
Large coffee dispenser (3 Liter)
Made of 18/8 stainless steel
Used vacuum insulation technology
Easy to use and clean
Easy to pour over
Large opening to fill
Quality pump lever
Keep hot beverages for 12 hours
Cold retention for 24 hours
1-year product warranty
TAKE NOTE
Interior side slightly difficult to clean
Specifications
Brand: BonNoces
Material: Silicone
Dimensions: 12 x 6 x 6 inches
Capacity: 2 Liters
Weight: 1.9 Pounds
Bonnoces is a beautiful stainless steel-designed thermal carafe. Its double-walled vacuum technology keeps coffee hot for 6 hours and cold beverages for up to 12 hours.
This sleek and elegant thermos carafe uses 18/10 environmentally friendly stainless steel. As well as the carafe preserves the flavor of the beverages. Although it can pour coffee with one hand, the company doesn't recommend it.
The capacity of the carafe is 2 liters, enough for the office or home. According to the price tag, it has great value for having a beautiful and elegant thermal carafe.
WHY WE LOVE IT
The inner side is stainless steel made
Overall Silicone made carafe
Handle sturdy enough
Used 18/10 stainless steel
Large capacity (2 liters)
One-hand pouring system
Double-walled carafe
Double-walled carafe
Used vacuum technology
Keep coffee hot for up to 6 hours
TAKE NOTE
No product warranty (But they have a refund or replacement policy)
How to choose an excellent thermal coffee carafe?
Design
Carafe design depends on what materials are used in its manufacturing and how it's laid out. The best thermal carafes are made of double-walled stainless steel because they are durable and easy to clean.
The design generally consists of two separate layers, insulated walls with vacuum insulation between them. It prevents the outside metallic surface from becoming too warm. At the same time, the coffee inside the carafe remains hot and fresh in taste.
Convenience
With a thermal carafe, you can make an entire pot of coffee and then store it on the kitchen counter for many people walking in during the day, letting them pour themselves a cup of coffee quickly.
Capacity
The number and size of cups you serve coffee are important considerations regarding how many giant thermal carafes to buy. There are several sizes to choose from, from compact to large.
With the ability to hold approximately 32 ounces of coffee, a thermal carafe is usually more cost-effective than an ordinary one. You may need more space for certain office activities; taking a giant carafe of 68 ounces would be a great solution.
Materials
Thermal coffee carafes are made using glass, stainless steel, or plastic. Each material has its benefits and drawbacks.
Glass thermal carafes retain coffee hot longer than other types, but they are more fragile and heavier. Plastic thermal carafes are lighter but will not retain coffee hot as long.
Stainless steel carafes keep coffee hot from the standpoint of durability. It is a fantastic option who would like to enjoy their coffee at room temperature but still have it stay warm enough to drink without burning their mouth.
Frequently Asked Questions
How long does a thermal carafe retain coffee hot?
It may differ depending on the type and material used to make a thermal carafe. Mostly, it can keep hot tea or water hotter than coffee. It will keep it hot for a couple of hours after it has been brewed.
Which is better- a glass carafe or a thermal carafe?
The glass carafe seems classy, yet it can break at any moment. But a thermal carafe has safeguards against shattered glass. It can heat your coffee longer than a glass carafe.
Is a large thermal carafe always better than a smaller one?
It all depends on your intended use. We recommend a full-sized carafe if you plan to utilize it for business or large-office. Otherwise, you can use a small-size carafe for personal use.
In a Nutshell
A thermal coffee carafe is your best choice to make great-tasting coffee without having to reheat your pot whenever a guest wants another cup.
We believe our final carafe recommendation from our study is the Pykal thermal Coffee Carafe. It can be reasonably designed for users to clean and maintain easily.