Best Thermal Coffee Carafes: Find The Top Model
Coffe Makerly is user-supported. When you buy through links on our site, we may earn an affiliate commission.
Learn More
For coffee lovers, nothing is more satisfying on a morning than waking up to the smell of freshly brewed coffee. It's a mind-blowing part of morning time. Some people prefer to brew their coffee at home, others prefer to buy it from a nearby coffee shop.
Whichever option you like, there are some things that you should have in your kitchen. One of these items is a thermal carafe. A carafes can retain your favorite beverage hot and keeps the flavor fresh for longer periods of time.
This is a guide on the most popular thermal coffee carafe models currently available on market, and what they do best! You will find the coolest designed carafes based on the right price tag and user experiences.
Top Thermal Coffee Carafe – Quick List
Find the best coffee carafes within minutes from our top choice list!
---
Most Popular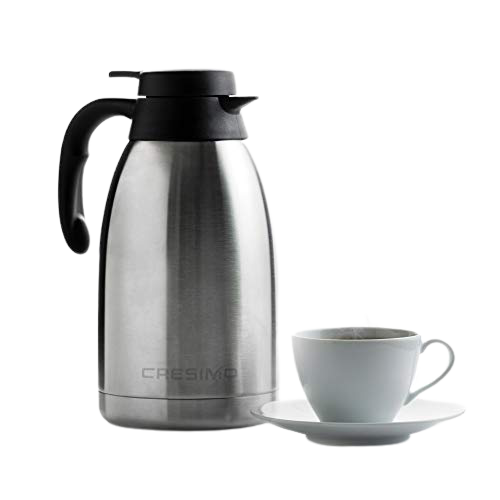 Best Designed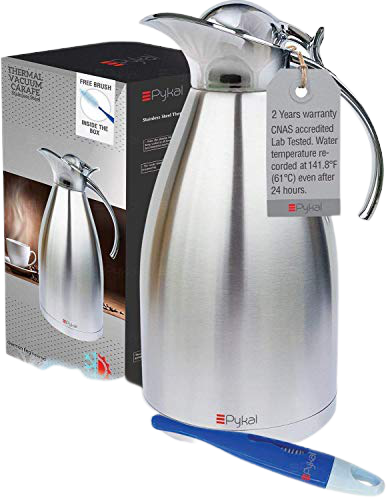 Best Friendly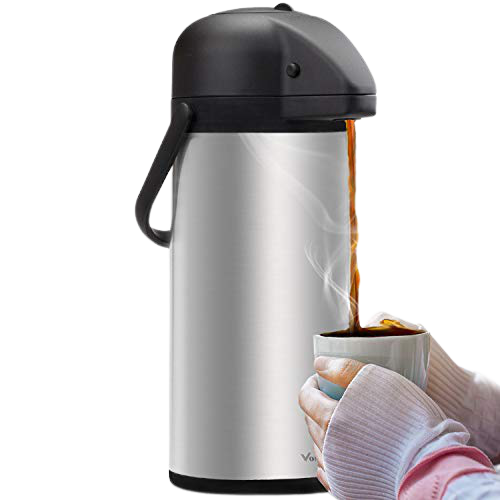 ---
What is thermal carafe?
A thermal carafe, also known as a vacuum bottle or thermos, is the way to keep your coffee, tea, or any kind of beverage hot for hours. They are made double-walled and insulated with vacuum technology. It can last a long period of your liquid temperature inside and heat transfers slowly.
Glass Vs. Thermal Carafe – Which is best?
Simply we know, glass carafe made of glass. There are different kinds of glass but mostly designed for heat resistance and stability. But the primary reason for coffee glass carafe is about the taste.
It doesn't change the taste although you use the carafe for different beverages. Moreover, it can increase the beauty of your kitchen and looks elegant. After all, they are easy to clean and use, and most of them are affordable in price. These are the ideal aspects for most glass-made carafes.
Thermal carafes are the most common type of carafe for people. They are made of double-walled stainless steel. Especially, they are capable to hold the coffee heat for a longer time. The vacuum between the wall can eliminate the temperature and keep the beverage warm.
According to the price tag, they are mostly costly. When coffee machines don't have hot plates, a thermal carafe can be a great solution there. When keeping coffee hot for a longer period is the primary matter, then you must go with types of carafe.
Best Thermal Coffee Carafe Reviews
Specifications:
Brand: Cresimo
Material Type: Stainless Steel
Dimensions: 10.8 x 6 x 6 inches
Capacity: 68 Fluid Ounces
Item Weight: 1.8 Pounds
This beautiful stainless steel made thermal coffee carafe was designed by Cresimo, a coffee ware storage brand. The exterior and interior both are durable for daily use.Particularly the double-walled thermal carafe ensures its quality based on being sturdy and safe from breaking.
The vacuum technology of this carafe retains the temperature and keeps the beverage hot for hours. Even the carafe can be used for cold beverages as well.
The design of the carafe is completely user-friendly. The filling opener is large so that you can easily fill it. You can clean it efficiently whenever you want. One-handed pouring makes it easy simple when the outer side of the carafe is cool to touch.
The capacity of the carafe is 68oz which is around 8.5 cups. It is the perfect retention for personal home users. After all, we love this thermal carafe mostly as it keeps coffee hot longer time.
Specifications:
Brand: Pykal
Material Type: Stainless Steel with Manual Lid
Dimensions: 10.8 x 6 x 6 inches
Capacity: 68 Fluid Ounces
Item Weight: 1.8 Pounds
Pykal thermal carafe is tested by CNAS accredited lab and ensured its quality for hot or cold beverages. German engineering technology helps to keep coffee hot for hours. The vacuum insulation helps to hold temperature both for hot or cold beverages for hours.
As the carafe is plastic and BPA-free silicon, it preserves the taste of beverages. One-handed control makes it easy to pour the coffee. Cleaning is an essential part of keeping a thermal carafe long-lasting.
Pykal thermal carafe includes a free cleaning brush that can help to keep clean it easily. The outside part of the carafe and handle is safe to touch because the handle is made of chrome material.
Specifications:
Brand: Vondior
Material Type: Stainless Steel
Dimensions: 15.6 x 5.6 x 5.6 inches
Capacity: 3 Liters
Item Weight: 6.4 Pounds
Vobdior coffee carafe is an attractively designed stainless steel carafe. This premium carafe keeps beverage coffee hot for up to 20 hours. It also holds the temperature for cold beverages. As it is made of stainless steel, it doesn't diminish the flavor and taste.
It has a large capacity of up to 3 liters so that you can get coffee for family gatherings. By pressing a button, it pours out the coffee.
The insulated carafe provides a cleaning brush which helps to descale the carafe easily.
Specifications:
Brand: Cresimo
Material Type: Stainless Steel
Dimensions: 16.42 x 6.69 x 6.69
Capacity: 3 Liters
Item Weight: 3.4 pounds
If you are looking for a large-sized coffee dispenser, Cresimo thermal carafe can be the right pick that is excellently designed with vacuum insulation. It is 3 liter (101 ounces), perfect for any family program. In particular, it holds temperature for 12 hours and keeps cold beverages for 24 hours.
This Double-walled dispenser conserves the beverage flavor for hours. About the design, the carafe is made of 18/8 stainless steel. When you keep the hot coffee, the outside is cold to touch. Furthermore, cold beverages can stay cool with condensation-free.
A friendly designed carafe ensures an easy to use and clean process. Considering this point, this carafe is convenient to pour over and the pump lever makes it simply using without spilling out the beverages. Also, it is easy to fill. Overall, we have found this remarkable carafe that offers a lot of features.
Specifications:
Brand: BonNoces
Material Type: Silicone
Dimensions: 12 x 6 x 6 inches
Capacity: 2 Liters
Item Weight: 1.9 Pounds
Bonnoces is a wonderful stainless steel-designed thermal carafe. Its double-walled vacuum technology keeps coffee hot for 6 hours and cold beverages for up to 12 hours.
This sleek and elegant thermos carafe uses 18/10 environmentally friendly stainless steel. As well as the carafe preserves the flavor of the beverages. Although it can pouring coffee with one hand, the company doesn't recommend it.
The capacity of the carafe is 2 liters that are enough for the office or home. According to the price tag, it has great value for having a beautiful and elegant style thermal carafe.
Buyer Guide: Thermal Carafe Coffee
Design
Carafe design depends on which materials are used in its construction and how it is built. The best thermal carafes are made of stainless steel double-walled materials because they're durable and easy to use, clean.
The design usually includes two layers, insulated walls with vacuum insulation in between them to keep the outside metal surface cool while keeping any liquid on the inside nice and warm.
Convenience
A thermal carafe allows you to make a whole pot and then leave it on the kitchen counter for people who come in throughout the day – they'll be able to pour themselves a hot cup without having to find out where your microwave is or wait for their coffee maker to start up again.
Capacity
The thermal carafe capacity is an important consideration for customers. The capacity depends on the total number of people you want to serve coffee. There are smaller to larger sizes available.
If you're like most households and have two or more people who drink coffee, a thermal carafe with a 32-ounce capacity will be more cost-efficient in the long run.
Sometimes you may need a larger size for office use; considering a carafe of 68-ounces can be a good fit for the purpose.
Materials
The thermal coffee carafe can be made from a variety of materials, including glass, stainless steel, and plastic. There are advantages and disadvantages to thermal carafes of all materials.
Glass thermal carafes will keep coffee hotter on the inside than they made with other materials, but glass carafe are more fragile and heavier. Plastic thermal carafes are lighter but will not keep coffee as hot.
Stainless steel carafes can keep coffee hot and are more durable options. It's is a good choice for people who want to enjoy their beverage at room temperature, but still, have it stay warm enough to drink without burning your mouth.
Frequently Asked Questions About Thermal Coffee Carafes
In a Nutshell
The thermal coffee carafe is an ideal choice for those who want to serve their guests a fresh hot beverage without having to worry about the pot being heated up every time someone wants another cup of coffee!
From our in-depth researched, our top recommended carafe is Pykal thermal Coffee Carafe. After all, it has designed conveniently so that users can easily clean and maintain it. It is an excellent coffee appliance for any household.